To share messages of remembrance about a recently deceased sister please visit our Message of Remembrance page.
To make a donation in memory of one of our sisters, click HERE.
Are you looking for a Sister who served in your school, hospital, parish or other ministry?
Please complete our Find A Sister form.
Sr. Blanche Zalewski (1925 - 2017)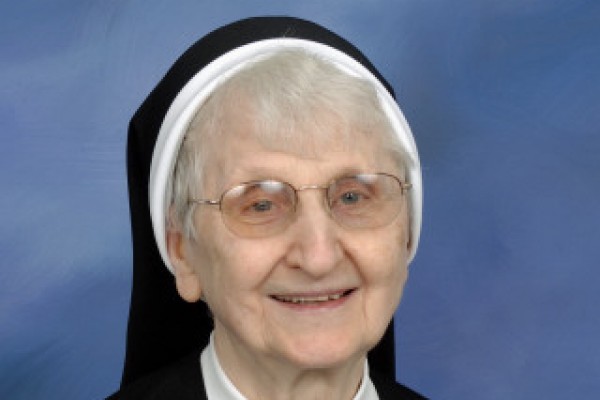 January 14, 1925 – July 27, 2017
Stephanie Zalewski was born in Chicago to Walter and Casimira (Matyskiel) Zalewski, both from Poland. She was the seventh of eight children. Stephanie attended Holy Trinity Grade School and Holy Family Academy in Chicago. Both schools were administered by the Sisters of the Holy Family of Nazareth (CSFN).
One day, 18-year old Stephanie was riding on a bus and flipping through a Catholic Digest when an inch-square picture of a sister and caption, "Why don't you become a nun?" caught her eye. She smiled and put the magazine away, but continued to be bothered by the question. She consulted her former 7th and 8th grade teacher, Sr. Canisia, who said she thought Stephanie had a vocation. Stephanie's response was, "What do I do with it?" She was soon interviewed by the local superior and, without hesitation, began planning to enter the convent. Within a week, she was ready. She entered the Sisters of the Holy Family of Nazareth on February 2, 1943.
Stephanie became a novice on August 18, 1943 and received the name Sr. Blanche. Following her first profession of vows on August 2, 1945, Sr. Blanche began teaching at St. Hedwig School in Chicago. She professed her perpetual vows on September 1, 1951. For 43 years, Sr. Blanche taught not only in the Chicago area, but also in Marayong, Australia, and later in Texas and briefly in North Dakota. She received a Bachelor of Science Degree in Education from De Lourdes College in Des Plaines, IL. She completed the Clinical Pastoral Education Program at Loyola University and earned a Master's degree in Spirituality at Mundelein College, both in Chicago.
From 1988 until 2009, she ministered in pastoral care at St. Mary of Nazareth Hospital in Chicago.
One heart-warming story that Sr. Blanche enjoyed retelling took place at Mayo Clinic where she was scheduled for surgery. She heard a little boy sobbing in the room next to her. His giraffe was missing an eye. Sr. Blanche cut two buttons from the bottom of her habit and sewed them on the stuffed animal for eyes. When she returned the giraffe to the little boy, he immediately ceased crying and peacefully fell asleep. Later, when Sr. Blanche inquired about the little boy, she learned that he had died on the operating table. Hers may have been the last gesture that made him happy on earth.
Sr. Blanche was a gentle and loving presence to all those around her. Her motto was, "If it's important to you, it's important to me."
In 2007, at age 84, Sr. Blanche retired from her position as chaplain at St. Mary's and moved into Nazarethville where she volunteered at the reception desk. She continued attending the therapy dance group at the Stardust Banquet Hall in Chicago for as long as she could.
In reflecting on her life, Sr. Blanche had said, "If I had my life to live over, I would have chosen to discipline myself sooner, to hope for the best, expect nothing, and accept whatever is. It seems to me that would be a means of conforming my will to the Will of God."
Sr. Blanche died peacefully and quietly, as she had lived, on July 27, 2017. Fr. Charles Schlax, former chaplain and current a resident at Nazarethville, presided over her funeral liturgy on July 29 at the Provincialate Chapel in Des Plaines, IL. Interment was at All Saints' Cemetery also in Des Plaines.