To share messages of remembrance about a recently deceased sister please visit our Message of Remembrance page.
To make a donation in memory of one of our sisters, click HERE.
Are you looking for a Sister who served in your school, hospital, parish or other ministry?
Please complete our Find A Sister form.
Sr. Monica Mikutel (1915 - 2017)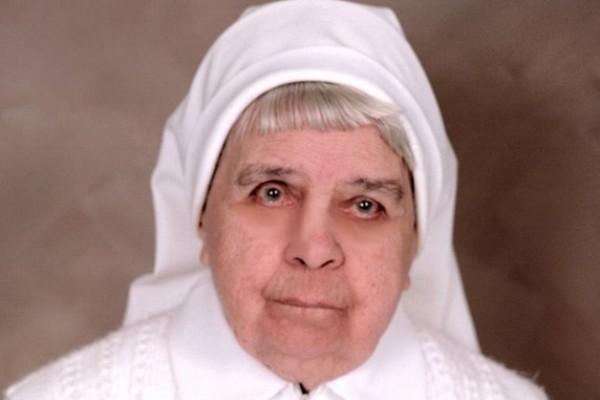 August 8, 1915 – September 29, 2017
Olimpia Mikutel was born to Stanislaus and Maryann (Butrym) Mikutel on August 8, 1915 in Norwich, Connecticut, joining siblings Malvina, Monica and William.
In eighth grade, at St. Joseph School, Olimpia felt strongly that God was calling her. Her older sister Malvina was then in a religious formation program with the Sisters of the Holy Family of Nazareth. Prayerfully considering her own vocation, she discussed her future with her parents and the next phase of her spiritual journey began to unfold.
After high school, Olimpia became a postulant. On August 13, 1933, she received the white veil of a novice and the name Monica. On August 16, 1935, Sr. Monica made her first profession of vows. Six years later, on August 12, 1941, Sr. Monica made her final profession of vows.
Sr. Monica spent her 62 years in ministry at Nazareth Hospital in Philadelphia, except for one year in 1947, when a nurse was needed at St. Christopher Home for Children at Sea Cliff, Long Island, NY. She received her nursing certification at Saint Mary of Nazareth Hospital in Chicago in 1938 and a Bachelor of Science degree in nursing at Villanova University in 1958.
At Nazareth Hospital, Sr. Monica served as supervisor of nursing floors, director of nursing services, assistant nursing supervisor, and patient representative. In September 2002, Sr. Monica began her retirement at Mount Nazareth in Philadelphia. With increasing age, health problems necessitated that she move to the infirmary floor, where she experienced the loving care that she had extended to others for so many years.
During the Religious Jubilarian Mass on September 24, 2017, at the Cathedral Basilica of Saints Peter and Paul in Philadelphia, Sr. Monica was honored for her 85 years of religious life, topping the list of 283 other sisters, brothers and priests who also celebrated milestone anniversaries.
Five days later, in the early evening of September 29, 2017, Sr. Monica was welcomed to her heavenly home. Her wake and Mass was held on Thursday, October 5 at Mount Nazareth Chapel in Philadelphia.