To share messages of remembrance about a recently deceased sister please visit our Message of Remembrance page.
To make a donation in memory of one of our sisters, click HERE.
Are you looking for a Sister who served in your school, hospital, parish or other ministry?
Please complete our Find A Sister form.
Sr. Bernadette Medrzyk (1920 - 2017)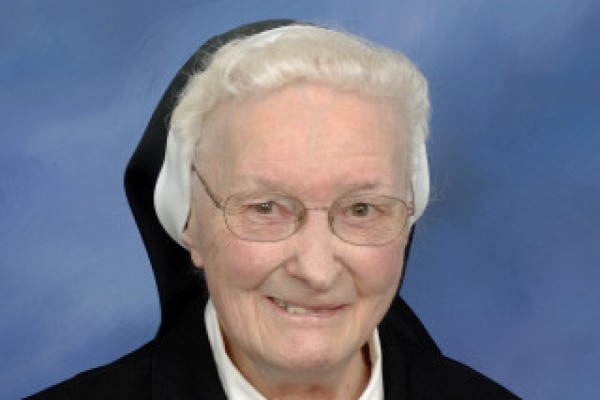 February 25, 1920 – November 30, 2017
Irene Medrzyk, the youngest of ten, was born in Chicago's West Pullman neighborhood on February 25th, 1920 to Sophia and Andrew Medrzyk. Loss and separation came early to her family. Four of her siblings died in infancy before Irene was born, and when Irene was just two years old, her mother died leaving her father with six children to provide for. Her father entrusted the care of Irene and her sister, Helen, to the care of his brother and his wife. The two youngest boys were placed in an orphanage, while the two oldest children were able to take of themselves.
Irene and her sister Helen, who later became Sr. Eroteis in the Sisters of the Holy Family of Nazareth, attended Assumption BVM School in Chicago. Irene wanted to follow the same path as Helen, but had to remain at home to care for the young children in the family where she lived. When she turned 18, she was allowed to follow her dream. On September 12, 1938, Irene became a postulant and completed her high school education through the Holy Family Academy extension in Des Plaines, IL.
On July 19, 1939, she became a novice and was given the name of Sr. Bernadette. She completed her novitiate in Rome and returned to the United States in 1942. She worked the switchboard at St. Mary's Hospital in Chicago for a time and, in 1943, she was sent to St. Michael's School on South Shore Drive in Chicago to begin her first of many teaching assignments.
After several teaching assignments in Chicago and Indiana, and completing her education at De Paul University, Sr. Bernadette was sent to Australia, where she was one of three pioneers from the U.S. who began the parish school in Brisbane.
After returning to the U.S., she also taught at St. Luke's in Irving, TX and at St. Thomas Aquinas in Dallas.
With some health issues, Sr. Bernadette returned from Texas in 1991 and took on lighter responsibilities, serving as a tutor, an art teacher, a librarian and finally helped the Superior at Nazarethville. Sr. Bernadette never stopped learning and improving herself.
Among her retreat notes in 2003, she wrote, "I would like to do as Jesus would do – to see the good in others." She reminded herself that what you see in others is only one-tenth of who they really are. She was a quiet soul by nature, but her thoughts were deep.
Sr. Bernadette spent about ten years in retirement at the Provincialate before going to Nazarethville in 2012 at the age of 92. She was fortunate to have family members who kept in touch through the years.
On the day before she died, Fr. Charles, a resident at Nazarethville and former chaplain, anointed her and less than 24 hours later Sr. Bernadette slipped away quietly. As quietly as she lived, so quietly she died without any fuss and fanfare.
The Mass of Resurrection was held on December 4 at the Provincialate chapel in Des Plaines, IL. Sr. Bernadette was laid to rest next to her sister, Sr. Eroteis at All Saints Cemetery in Des Plaines.