To share messages of remembrance about a recently deceased sister please visit our Message of Remembrance page.
To make a donation in memory of one of our sisters, click HERE.
Are you looking for a Sister who served in your school, hospital, parish or other ministry?
Please complete our Find A Sister form.
Sr. Clarissa Mroz (1927 - 2017)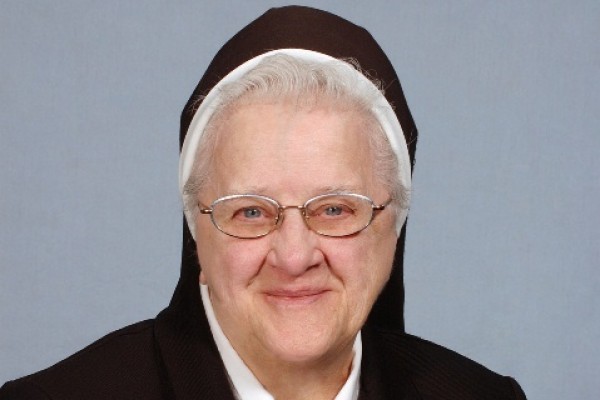 November 25, 1927 – December 15, 2017
Theresa Mroz was born in the Port Richmond neighborhood of Philadelphia, PA on November 25, 1927 to Josef and Rozalia (Mieloch) Mroz. The eighth of nine children, Theresa had three older brothers, Joseph, Ignatius (always called Charlie) and Francis, and four older sisters, Mary, Carrie, Julia, and Josephine. Her brother Edward was born three years later.
She attended St. Adalbert's Elementary School and Nazareth Academy High School, both in Philadelphia. While at the Academy, Theresa heard God calling her to religious life. She became a postulant on January 12, 1946 and at her investiture on August 10, 1946 received a new name Sr. Mary Clarissa. Following her first vows on August 16, 1948, she accepted her first assignment to Holy Trinity School in Utica, New York, as a primary grade teacher. Sr. Clarissa made her final vows in Torresdale, PA on August 12, 1954.
Her ministries varied throughout the years from primary to secondary school positions in New York, Maryland, and Pennsylvania. She spent many years in secondary education as a teacher and administrator. She earned degrees in French, History, Religious Studies, and Library Technology from Community College, Holy Family University, Villanova University, and St Charles Seminary.
In 2002, she assumed responsibility as Director of the Library at Nazareth Academy High School and remained in that position until her retirement in 2012. When she moved to Mount Nazareth, she devoted more time to praying, reading, writing, and keeping in contact with family and friends. She was grateful for the love and support given by her nieces and nephews who always kept in touch. At 90 years of age, she still utilized the latest technology with a computer and tablet.
Sr. Clarissa was a woman of faith and prayer and trusted God wholeheartedly to support her through the difficult times. She loved Nazareth and never shied away from challenges fulfilling the community's expectations.
In the early hours of December 15, Sister was taken to Nazareth Hospital on her final journey home. Her many struggles with illness would finally be accepted in God's embrace in the 71st year of her religious life.
The wake was held December 20 at Mount Nazareth Chapel, Philadelphia. The Mass of Resurrection immediately followed in the chapel.