To share messages of remembrance about a recently deceased sister please visit our Message of Remembrance page.
To make a donation in memory of one of our sisters, click HERE.
Are you looking for a Sister who served in your school, hospital, parish or other ministry?
Please complete our Find A Sister form.
Sr. Beata Jurewicz (1928 - 2018)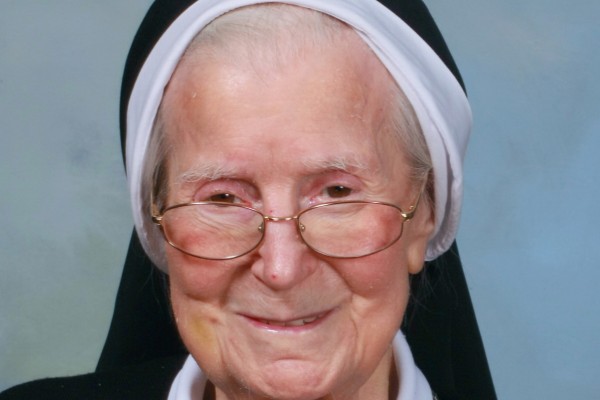 April 18, 1928 – January 10, 2018
Phyllis Jurewicz was born on April 18, 1928, in Shenandoah, PA, one of the four children of Edward and Bertha Jurewicz. She was baptized in Saint Stanislaus B.M. Church.
The family moved to Philadelphia, where she attended Nazareth Academy Grade School and Nazareth Academy High School. She entered the Sisters of the Holy Family of Nazareth on January 12, 1946, midway through her senior year. She professed temporary vows on August 16, 1948 and perpetual vows on August 12, 1954.
Her first assignment was as a teacher at Our Lady of Sorrows School in Scranton, PA. She had assumed that education would be her lifework, but after only four years, she was sent to Catholic University in Washington, DC, and enrolled in the school of nursing. After graduating Magna Cum Laude from C.U. in 1956, she was assigned to Nazareth Hospital. Her various duties there included Surgical Floor Supervisor, Medical Floor Supervisor, Director of Nursing Services, and Director of Staff Development.
When St. John Neumann was opened in 1965 as a skilled-care nursing home, Sr. Beata was one of four Sisters of the Holy Family of Nazareth who were assigned to its administration. She began her new ministry as a member of the nursing staff, and in 1971 she was appointed Administrator. She retired from this position in 1993, but her ministry to the sick and elderly citizens of Philadelphia continued. She became a member of the Pastoral Care Team at St. John Neumann. And remained in this position until 2013, when she retired to Mount Nazareth.
At St. John Neumann, Sr. Beata's expertise was widely recognized throughout the Archdiocese, as well as in the City of Philadelphia. She served on a number of Governing Boards including, Immaculate Mary Nursing Home; PA Catholic Conference of Health Care Facilities; PA Association of Non-Profit Homes for Aging; Home Health Services of Nazareth Hospital; Alzheimer's Association and Related Disorders Association; and Catholic Human Services of the Archdiocese of Philadelphia.
Sr. Beata was noted for her kindness and compassion, and her care for the sick extended to their families. She could often be found keeping vigil with a dying person, or praying with their grieving families. Sr. Beata knew every resident and staff member at St. John Neumann by name. She said, "We never wanted to be an institution. We always wanted to be a family."
As a resident of Mount Nazareth's infirmary, she continued to make her presence felt, simply by being who she was, a gentle, loving sister among sisters. Her pastimes now included doing word puzzles and cutting out coupons from the newspaper flyers, which she distributed to staff members. One of the kitchen staff remarked upon hearing of Sr. Beata's death, "Oh, I'm going to miss my coupon buddy!"
Sr Beata's life on earth ended as she gently fell asleep in the arms of Jesus on the morning of January 10, 2018. The Mass of Resurrection took place on January 15 at Mount Nazareth Chapel in Philadelphia.