To share messages of remembrance about a recently deceased sister please visit our Message of Remembrance page.
To make a donation in memory of one of our sisters, click HERE.
Are you looking for a Sister who served in your school, hospital, parish or other ministry?
Please complete our Find A Sister form.
Sr. Corona Molenda (1925 - 2018)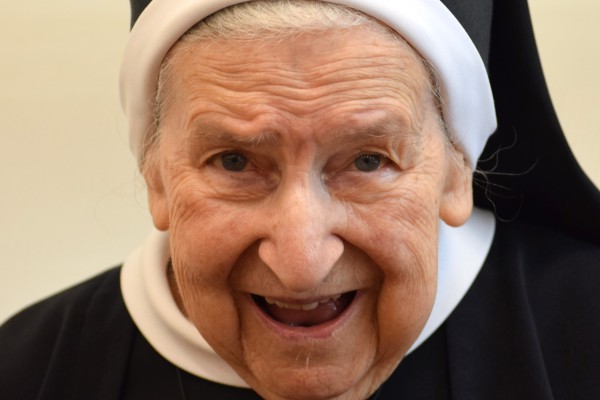 November 13, 1925 – October 14, 2018
Long before she received her veil and became Sr. Mary Corona, young Teresa Stella Molenda would put a towel on her head, line up all her dolls and pretend to be a Sister while teaching the dolls how to pray and how to count. Born in Argo, IL to Joseph and Tekla (Kubska) Molenda, Teresa was the ninth of eleven children. Some of her fondest memories were helping the Sisters at St. Blase Parish in Summit, IL clean the school and the Church and helping to bring the Sisters' groceries home. These interactions were the beginning of Teresa's desire to answer the call to religious life.
Teresa attended St. Blase Elementary School. She became an aspirant with the Sisters of the Holy Family of Nazareth in Des Plaines, IL immediately after graduating eighth grade and attended Villa Nazareth High School also in Des Plaines. On June 12, 1942 she became a postulant and professed final vows on September 1, 1951.
Sr. Corona received a Bachelor of Philosophy in Education from DePaul University and began her education ministry as a kindergarten teacher's aide at St. Hyacinth's School in Chicago in 1945. She went on to teach for sixty-one years in various schools in Illinois, Florida and Texas. She taught at St. Hyacinth, St. Susanna, St. Josaphat, St. Stanislaus, Holy Trinity, St. Adalbert, St. Hedwig, and St. Camillus in and around the Chicago area and at St. Brendan in Miami, Florida before going to Texas where she ministered as a teacher from 1972 until 2006 at St. Andrew in Fort Worth, St. Thomas Aquinas in Dallas, and at St. Luke and Holy Family of Nazareth in Irving.
In Grand Prairie, TX, Sr. Corona also served as director of the Association of the Holy Family. In 2014, she retired as the director and began ministering to elderly sisters in Jesus the Good Shepherd Convent in Grand Prairie. Every day she spent time with the Sisters, leading them in prayers and exercises and guiding them through songs and poetry. Sr. Corona found great joy in helping these Sisters and believed that her days practicing to be a Sister with her dolls prepared her for this ministry.
Sr. Corona was also known for her annual recitations of "'Twas the Night Before Christmas," enchanting the young and young at heart with her storytelling.
On the evening of October 14, a month shy of her 93rd birthday and in the 76th year of her religious life, Sr. Corona died peacefully at Jesus the Good Shepherd Convent in Grand Prairie, TX. Her funeral Mass was held on October 18 at the convent chapel. Interment was at the convent's cemetery.