To share messages of remembrance about a recently deceased sister please visit our Message of Remembrance page.
To make a donation in memory of one of our sisters, click HERE.
Are you looking for a Sister who served in your school, hospital, parish or other ministry?
Please complete our Find A Sister form.
Sr. Magdalen Marek (1931 - 2018)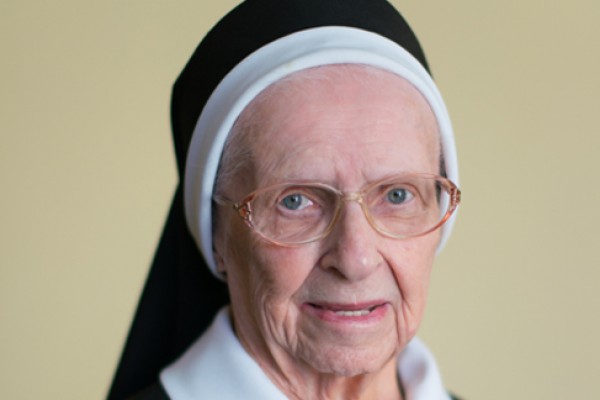 October 20, 1931-November 21, 2018
Sr. Magdalen Marek was devoted to Jesus, our Blessed Mother, and to our Mother Foundress. She loved her vocation to Nazareth, saying at one point, "If I had to live my life over again, I don't think I would change anything as far as my vocation is concerned. I love my life as a Sister of the Holy Family of Nazareth, and I thank God for my religious vocation."
Regina Marek was born in Ozone Park, NY on October 20, 1931, to Sylvester and Wanda Marek and was one of five children. After graduation from Richmond Hill High School, Richmond Hill, NY, she entered the Congregation of the Sisters of the Holy Family of Nazareth on September 8, 1950. She received a Bachelor of Arts in Elementary Education from Holy Family University, Philadelphia, PA.
Her first assignment was as an elementary school teacher at St. Mary's School in Worcester, MA. Her teaching career spanned 49 years and took her to schools in New York, New Jersey, Massachusetts, and Pennsylvania. She not only taught her students the fundamentals of reading, writing, and arithmetic, but also how to love God and each other. When a priest asked one of her students what school she attended, the little girl replied, "I go to Sister Magdalen's school."
Sr. Magdalen retired from the classroom in 2002 and worked part time as a parish minister in Holy Trinity Parish, Utica, NY until illness necessitated her move to Immaculate Heart of Mary Convent, Monroe, CT.
She was a faithful friend and helper, happy with who she was and grateful for everything she received both from God and others. Sr. Magdalen did not have a bad word to say about anyone. She took people as they were and with gentle humor brought the best out of them.
During her last days of life, her family was prominent in their visits, greeting cards, and flowers just as they had been in life to her.
When the doctor told Sr. Magdalen that he could do nothing else to alleviate her spreading cancer, she said, "God is on my side." With courage and faith, Sr. Magdalen passed away on November 21, 2018, on the Feasts of Mary's Presentation in the Temple and of our Mother Foundress, at Immaculate Heart of Mary Convent in Monroe, CT. She was in the 68th year of her religious life. Her Mass of Resurrection was celebrated on Saturday, November 24, also at the Convent chapel.