To share messages of remembrance about a recently deceased sister please visit our Message of Remembrance page.
To make a donation in memory of one of our sisters, click HERE.
Are you looking for a Sister who served in your school, hospital, parish or other ministry?
Please complete our Find A Sister form.
Sr. Vera Ochmanowicz (1921 - 2018)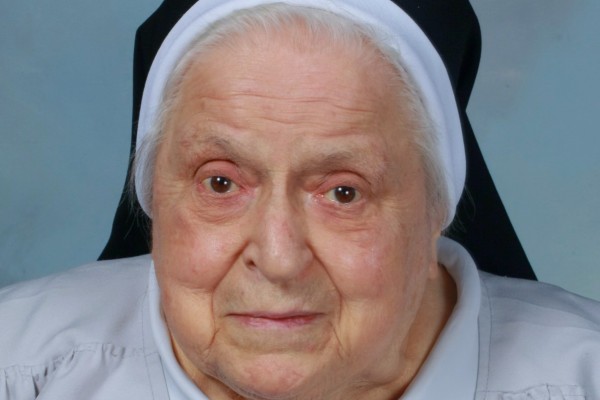 December 27, 1921 – December 31, 2018
Casimir and Rose Ochmanowicz welcomed a special Christmas gift on December 27, 1921 in the Bridesburg section of Philadelphia when baby Ceslas became a member of their family of four girls and one boy.
Ceslas attended St. John Cantius School and Nazareth Academy High School, both in Philadelphia. She entered the Congregation on September 8, 1942 and professed her final vows on August 15, 1951. She attended Holy Family Teacher Training School and later graduated from Villanova College with a BS in Secondary Education.
Sr. Vera's life of ministry included 41 years teaching in elementary schools in Brooklyn, NY; Philadelphia, PA; and Ambler, PA. She also taught in high school in Hato Rey, Puerto Rico.
In 1988, Sr. Vera became the administrator at Mount Nazareth in Philadelphia and was in charge of the kitchen, housekeeping and maintenance staff. Once a week, Sr. Vera and another sister headed to the docks in South Philly, where she knew every vendor. She would treat them to baked treats, and in exchange, they would always give her a price break. Somehow, she always seemed to get the best of the deal. At Mount Nazareth, it was not unusual to see her changing light bulbs or taking care of the boilers which always seemed to break down at night.
Even as a resident of Mount Nazareth's infirmary, Sr. Vera continued to serve by sewing and mending sisters' clothes. She also crocheted many beautiful creations for the convent gift shop and was noted for her green thumb, especially with violets.
Sr. Vera loved to read, and in her later years, her interest turned to the lives of the saints. She was also a baseball fan, and in the days when she worked in the kitchen, the radio was always tuned to a Phillies game. In the infirmary, she continued to watch the Phillies games on TV.
Though active with her ministry work, those who knew her can attest to the fact that prayer was truly her life. She had a prayerful presence about her which spoke of her intimacy with Jesus, and a visit with her was always an enriching experience. Sr. Vera had the gift for making everyone with whom she spoke feel special.
Sr. Vera's physical condition had, for a long time, been painful and uncomfortable, but she was never heard to complain. On the evening of December 31 as the world was preparing to greet a New Year, Sr. Vera entered her new life. Her Mass of Resurrection was held at Mount Nazareth in Philadelphia on January 4.