To share messages of remembrance about a recently deceased sister please visit our Message of Remembrance page.
To make a donation in memory of one of our sisters, click HERE.
Are you looking for a Sister who served in your school, hospital, parish or other ministry?
Please complete our Find A Sister form.
Sr. Hilary Dyrcz (1919 - 2019)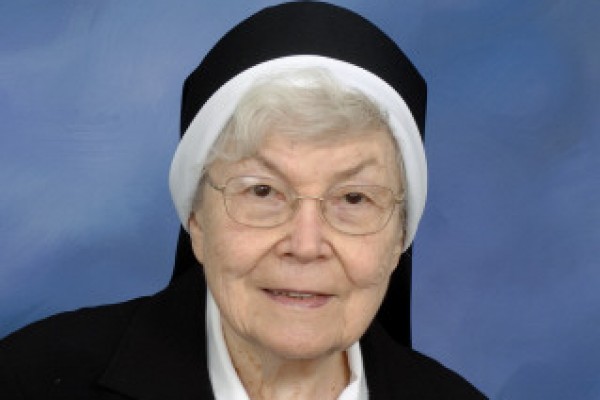 July 28, 1919 – January 19, 2019
Several years ago, Sr. Hilary became one of more than 1,100 sisters, nuns, priests and brothers to participate in Rush University's Religious Orders Study, a study dedicated to developing a better understanding of "common neurologic problems of older people." Sr. Hilary's participation involved yearly medical and psychological evaluations. When she passed away at almost 100 years old in the 85th year of religious life, her brain was taken to Rush Medical Center, in her last act of service, to further advance Alzheimer's research that will help others.
Born in Harvey, IL to Sophia and Joseph Dyrcz, Stephanie, as she was baptized, was the fourth of five children, all of whom attended St. John the Baptist School. Stephanie often stayed after school to help clean the classroom and walk sisters to the convent carrying their books and chapel veils. Because of the influence of her parents and Sr. Poncylia, her teacher, she became interested in religious life.
Stephanie became an aspirant in 1932 and officially began her journey as a Sister of the Holy Family of Nazareth in 1934. She professed her perpetual vows on August 25, 1943.
Sr. Hilary was filled with gratitude for the many educational opportunities given to her. She trained to become a teacher at DePaul University, where she also earned a degree in French. She studied in Switzerland one summer, and later in Canada, pursuing a Master's in French. She also earned a Master's in education and psychology from Notre Dame. She taught at St. Hyacinth, St. Ladislaus, Holy Trinity and Holy Family Academy in Chicago and at De Lourdes College in Des Plaines, IL.
In 1983, Sr. Hilary was elected Assistant General Superior for the Congregation, serving nine years in Rome. Upon completion of her term, she ministered at Holy Family Medical Center in Des Plaines as the Director of Volunteers and receptionist at the front desk. In 2003, she retired from active ministry and became a volunteer at Nazarethville, where she later became a resident.
Throughout her religious life, Sr. Hilary was a very quiet and private person who always made efforts to live her life ever more devoutly.
She passed away on Saturday evening, January 19, just six months shy of her 100th birthday. Her funeral liturgy was celebrated on January 21. Internment was at All Saints' Cemetery.
If you would like to make a donation in memory of Sr. Hilary, click HERE.