To share messages of remembrance about a recently deceased sister please visit our Message of Remembrance page.
To make a donation in memory of one of our sisters, click HERE.
Are you looking for a Sister who served in your school, hospital, parish or other ministry?
Please complete our Find A Sister form.
Sister Rose Mary Modzelewski (1938 - 2019)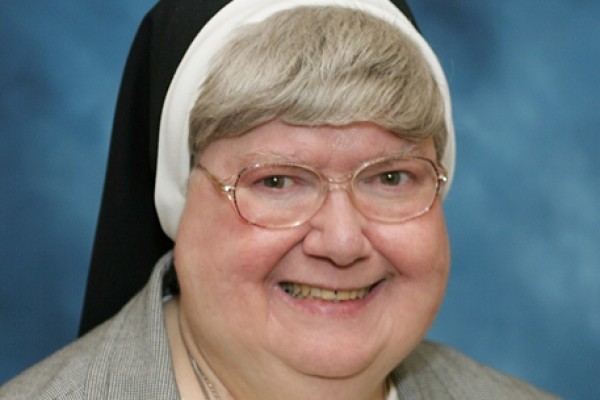 January 1, 1938 – February 10, 2019
Lucille Anne was born on January 1, 1938 in Erie, PA to Therese (Borowicz) and Michael Modzelewski. Religion and God were central to her family. Together they attended St. Stanislaus Parish in Erie. In third grade at the parish school, Lucille had the desire to be just like her teacher, a Sister of the Holy Family of Nazareth, who was so kind to everyone.
Lucille attended high school at Mount Nazareth Academy in Pittsburgh. She became a postulant on February 2, 1955 and entered the novitiate on August 11 of that same year.
In 1957, Sr. Rose Mary headed to Michigan to begin her teaching ministry at St. Barbara's. She also taught at St. Frances Cabrini, St. Christopher and Transfiguration in Michigan before journeying to Mercy Hospital in Altoona, PA to pursue a ministry in radiologic technology in 1964.
After finishing a two-year program, Sr. Rose Mary became the educational coordinator of the hospital-based program. After twelve years in the field and further training in radiation therapy, she became the director of Mercy Hospital's new radiation oncology department.
Those who worked with her knew Sr. Rose Mary as a compassionate witness to God's love and a woman of love and hope in the midst of suffering and pain. In her reflection upon this ministry she wrote, "Many times there is nothing we can say; but, a pat, a squeeze of the hand, a reassuring tone of voice, and a built-in sensitivity [can] turn a profession into a ministry of caring."
In 1990, she began serving as Director of Parish Ministry at St. Stanislaus Parish in Erie, PA.
During her time in Erie, she also worked with L'Arche, a "faith-based community where people with and without intellectual disabilities share life together," where she spent ten years being loved by the members and offering her own heart in return.
In 2000, Sr. Rose Mary returned to Pittsburgh to assume the ministry of Ongoing Formation Director for the Province. In 2004, she came to Holy Family Manor serving as the assistant superior.
In the quiet of the night on February 10 at Vincentian Home in Pittsburgh, Sr. Rose Mary died as she lived. Her funeral Mass was on February 13 in Holy Family Manor Chapel.
If you would like to make a donation in memory of Sr. Rose Mary, click HERE.