To share messages of remembrance about a recently deceased sister please visit our Message of Remembrance page.
To make a donation in memory of one of our sisters, click HERE.
Are you looking for a Sister who served in your school, hospital, parish or other ministry?
Please complete our Find A Sister form.
Sr. Florence Therese Sarnowski (1927 - 2019)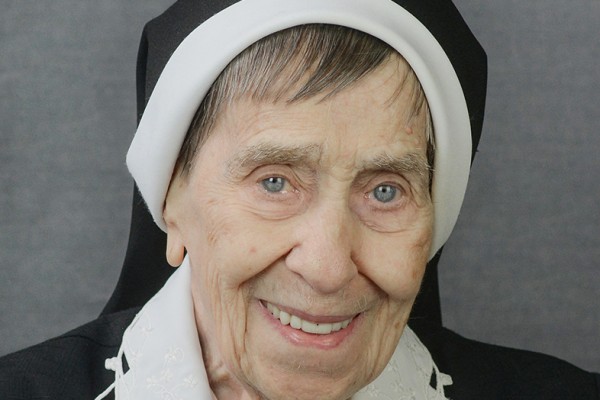 February 8, 1927 – January 16, 2019
Florence Sarnowski was born in Pittsburgh on February 8, 1927 to Felix and Alexandra (Domeracka) Sarnowski. Along with her six siblings, she attended Immaculate Heart of Mary School.
After eighth grade, she entered high school at Mt. Nazareth Academy in Pittsburgh where she began her education with the Sisters of the Holy Family of Nazareth. Because of family needs and her being the eldest child, she returned home to continue high school and to find a job to support her family.
The call to enter religious life continued to beckon within her. After much struggle and support from her younger Franciscan brother, Marion, she entered the Congregation in1948 and later that same year received the name Sr. Mary Clemens, later returning to her baptismal name of Florence Therese. She professed first vows in 1950.
She served for over 40 years as a primary school teacher in Pittsburgh; Detroit; Erie, PA and Montgomery, AL.
In 1971, Sr. Florence was charged with opening a new day care center in the building of the former Mt. Nazareth Academy in Pittsburgh, which had recently closed. She served as director of Mt. Nazareth Learning Center for eight years.
Sr. Florence also served in finance and human resources in various ministries including St. Augustine Academy in Lakewood, OH; St. Luke's Institute in Suitland, MD; and, Mt. Nazareth Center in Pittsburgh. She retired to Holy Family Manor in Pittsburgh in 2011.
As a positive person and a ready listener with a reassuring smile, Sr. Florence was helpful to many of her sisters. Sr. Audrey Merski noted Sr. Florence's influence in her own decision to enter Nazareth.
Sr. Florence passed away on January 16 at Passavant Hospital in Allison Park, PA. Her funeral liturgy was celebrated on January 19 at Holy Family Manor Chapel. She was laid to rest at St. Joseph Cemetery.
If you would like to make a donation in memory of Sr. Florence Therese, click HERE.