To share messages of remembrance about a recently deceased sister please visit our Message of Remembrance page.
To make a donation in memory of one of our sisters, click HERE.
Are you looking for a Sister who served in your school, hospital, parish or other ministry?
Please complete our Find A Sister form.
Sr. Christiana Metz (1930 - 2019)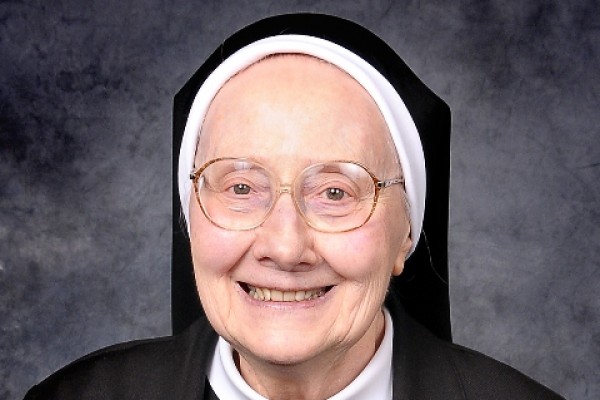 September 21, 1930 – April 1, 2019
Sr. Christiana personified prayer. Jesus was always on her lips. Known for her smile and appreciative, loving nature, she prayed for and blessed everyone, especially priests, the world, and the souls in purgatory. At daily Mass and during the sisters' community prayer, she always mentioned these intentions as well as the gifts and fruits of the Holy Spirit for those who did not have them.
Born September 21, 1930 to George and Josephine (Krushensky) Metz in South Heart, ND, Dolores was the eighth of eleven children. Her earliest education was in a one-room schoolhouse with about twenty students in grades one through eight, taught by one teacher. When the family moved to Dickinson, ND, Dolores, now in her teens, became acquainted with the Sisters of the Holy Family of Nazareth. [The Sisters of the Holy Family of Nazareth served in North Dakota from approximately 1941 until 1983.]
On one occasion, when her teacher, a sister, invited a priest to speak to the class about vocations, Dolores experienced an inner calling to enter religious life. Her mother was especially happy but her dad did not want her traveling from North Dakota to Illinois alone. In time, he relented and gave his blessing. On March 4, 1946, she said good-bye to her family and with the grace of God, followed the Divine calling.
She professed her temporary vows in August 1949 and final vows in August 1955. She earned a teaching diploma and her certificate in theology from DeLourdes College in Des Plaines, IL in 1954.
She served in education ministry for twenty-four years in Chicago at Roseland, St. Josaphat, and Immaculate Heart of Mary Parishes; in Florida at St. Brendan's; and, in North Dakota at St. Bernard and St. Vincent DePaul Parishes.
She also volunteered to assist in caring for the sick and suffering as a means of contributing to Christ's mission to the Church. After her teaching ministry, Sr. Christiana spent 13 years caring for the sick at Nazarethville in Des Plaines, IL. Eventually, she transferred to Texas where she served as a nurse's aide in the convent's infirmary. Through the years, Sr. Christiana continued serving the CSFN community in whatever capacity possible. Her love for the sick always found her praying with and for them, especially assisting those who were in their final stages of life.
During her last week, though unable to speak, Sr. Christiana was able to mouth the word "Jesus." She passed away April 1 at Jesus the Good Shepherd Convent in Grand Prairie, TX. The Mass of Resurrection was celebrated April 4 at the convent's chapel.
If you would like to make a donation in memory of Sr. Christiana, click HERE.