To share messages of remembrance about a recently deceased sister please visit our Message of Remembrance page.
To make a donation in memory of one of our sisters, click HERE.
Are you looking for a Sister who served in your school, hospital, parish or other ministry?
Please complete our Find A Sister form.
Sr. Sylvia Golubski (1936 - 2019)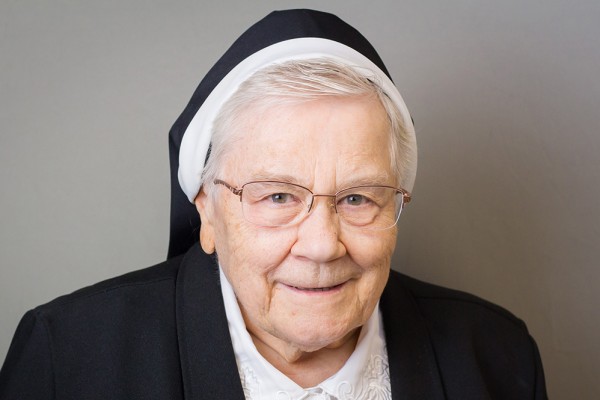 April 28. 1936 – February 19, 2019
A fun-loving person who enjoyed life, Sr. Sylvia had a forgiving heart. She was a common-sensed person – never boasting about her abilities and talents. With a compassion for the unfortunate, she was always willing to lend a helping hand.
Born on the Near Northside of Chicago on April 28, 1936 to Lawrence and Frances (Czerak) Golubski, Sylvia was the third of six children, including two cousins her parents adopted. She attended a public elementary school, then Holy Family Academy High School in Chicago where the seed of her religious vocation was planted. Sr. Gemma, her math teacher, asked if Sylvia had ever considered becoming a sister. After four years of high school with the Sisters of the Holy Family of Nazareth, Sylvia decided to take up the challenge.
She entered the Congregation in1954, receiving the name Sister M. Irma and later returning to her baptismal name. She pronounced temporary vows in 1957 and earned a Bachelor of Science in Education from De Lourdes College in Des Plaines, IL.
She served as an elementary school teacher and receptionist in the Chicago area at Immaculate Heart of Mary, St. Camillus, St. Michael (South Shore), St. Gilbert, St. Andrew (Calumet City, IN), St. Emily (Mount Prospect), St. Patricia (Hickory Hills), St. Blase (Summit/Argo) and St. Mary of Nazareth (Harvey). She also taught briefly in Florida.
With a bright smile, she welcomed young children who were adjusting to life at school without Mom and Dad. Strict, but caring, she did her best to challenge each child to do his or her best.
She enjoyed crocheting, making a variety of craft items, and playing computer games. She was also an avid fan of the Chicago Cubs and Chicago Bears.
After retiring from teaching in 2006, Sr. Sylvia helped at the Provincialate's front desk. She was transferred to Nazarethville a couple of years later. Her greatest support during this time was her sister, Terry, who called her every evening to see how she was doing and visited frequently, bringing snacks Sr. Sylvia enjoyed.
On February 19, 2019, after a good night's sleep – a first in many weeks – a good breakfast and then some discomfort, Sr. Sylvia took her last breath. She was heard repeating, "Jesus, Jesus, Jesus…" as her earthly life ended.
Sr. Sylvia's funeral liturgy was celebrated February 22 in the Provincialate chapel. She was laid to rest at All Saints' Cemetery.
If you would like to make a donation in memory of Sr. Sylvia, click HERE.