To share messages of remembrance about a recently deceased sister please visit our Message of Remembrance page.
To make a donation in memory of one of our sisters, click HERE.
Are you looking for a Sister who served in your school, hospital, parish or other ministry?
Please complete our Find A Sister form.
Sr. Pancratia Zuczek (1930 - 2019)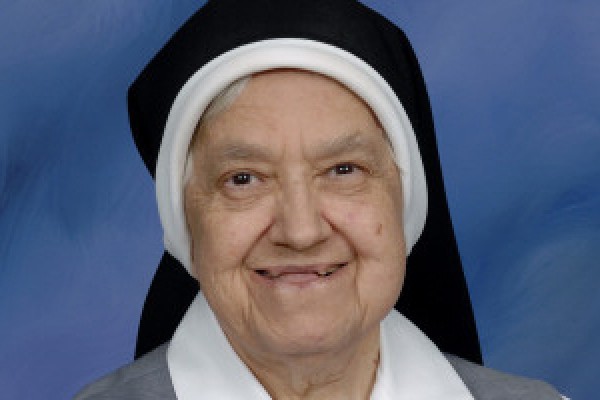 May 3, 1930 – February 19, 2019
At the time of her death, Sr. Pancratia's address book contained hundreds of names, addresses and phone numbers of people from all over the U.S. whom she had encountered over the years: employees, volunteers, deacons, priests, CSFN associates, former members of the Congregation, and relatives. All of these people were important enough that Sr. Pancratia wanted to keep in touch with them.
One woman who was contacted regarding Sr. Pancratia's death shared that when she was a small child, Sr. Pancratia took care of her and her siblings when their mother was ill. Over the years, Sr. Pancratia had stayed in touch with her. This is just one example of what those names in the address book must have meant to Sr Pancratia, as she engaged in a quiet and meaningful ministry in her own unassuming way.
Joan, as Sr. Pancratia was baptized, came into the world on May 3, 1930, the second of three daughters born to John and Helen (Wadas) Zuczek. She attended St. Adalbert School and St. Ann High School in Chicago.
Joan embarked on her religious life in 1952. In1954, she made her first profession of vows and soon after was transferred to St. Mary of Nazareth Hospital in Chicago where she began training to become a medical technician. She served in Texas and New Mexico at St. Joseph's Hospital, Holy Cross Hospital and Nazareth Hospital.
In 1970, Sr. Pancratia returned to Des Plaines, IL to serve at Holy Family Hospital and briefly at Holy Family Health Center. In 1984, she began ministering in pastoral care at Holy Family Medical Center, also in Des Plaines, where she spent the next 15 years.
Sr. Pancratia was a quiet, private, creative and prayerful person. Her pleasant disposition and compassion for the patients she served made her well-liked by those with whom she worked.
She enjoyed playing board games and excelled in making blankets, dresses and caps for infants.
Sr. Pancratia became a resident at Nazarethville Skilled Nursing Care in 2005, where she was able to pursue a simple lifestyle, praying, reading and continuing with her handiwork, though her memory began to fade and she slowly withdrew into herself. In her own quiet way, she was at peace in the midst of not knowing or understanding her life's journey.
It was in such a quiet manner that Sr. Pancratia passed away during the early hours of February 19, 2019. Her funeral liturgy was celebrated on February 21. She was laid to rest at All Saints' Cemetery.
If you would like to make a donation in memory of Sr. Pancratia, click HERE.