To share messages of remembrance about a recently deceased sister please visit our Message of Remembrance page.
To make a donation in memory of one of our sisters, click HERE.
Are you looking for a Sister who served in your school, hospital, parish or other ministry?
Please complete our Find A Sister form.
Sr. Consilia Mackiewicz (1923 - 2019)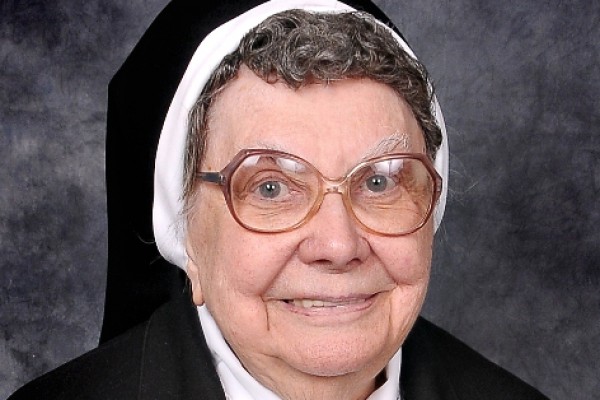 August 23, 1923 – April 26, 2019
On the occasion of Sr. Consilia's diamond jubilee, she shared: "When my 'cup' runneth over with doubts, difficulties, sorrows, my 'cup' was also filled with joys, happiness, faithful friends and the determination to persevere in this way of life." Her resilience was always accompanied by the trust and love she placed in God.
Growing up in a loving family with parents who exemplified God's love and concern, her early years were spent getting to know God through the many ways her parents and siblings treated each other, strangers, and the homeless who came to their door.
The fourth of seven children, four girls and three boys, she was born on August 23, 1923 in Chicago Heights, IL to Joseph and Micheline (Drapash) Mackiewicz, Early in life, she felt the attraction to become a sister, though her mother cautioned her to wait a few more years. "At a school event," Sr. Consilia later explained, "I had a kind of conversion experience, where I felt the need to speak again of my yearning to go to the convent. This time I was successful."
She entered the Sisters of the Holy Family of Nazareth in1941 and professed her first vows in 1944.
She completed her studies in radiology in 1946 at St. Mary's School of Radiology in Chicago. She also attended St. Paul University. From October 1946 to June 1955, she served in hospital radiology departments in Wichita Falls, TX; Mineral Wells, TX; and, Taos, NM.
In June1955, she began ministering in the radiology department at Mother Frances Hospital in Tyler, TX (now CHRISTUS Trinity Mother Frances Health System) where she was instrumental in getting the radiology department certified as a school of radiology.
In March 1981, she was appointed Director of Pastoral Care at Mother Frances Hospital, a position she held until her retirement in May 2003. While working in pastoral care, Sr. Consilia said, "My time in pastoral care fostered my desire to grow in God's love and through His love to support and inspire the patients I visit and counsel daily."
In retirement, Sr. Consilia helped with the CSFN archives in Grand Prairie, TX. Later, she served as a volunteer at St. Rita's Parish in Fort Worth, TX. In June 2015, Sr. Consilia was transferred back to Grand Prairie, TX. Even with physical pain from treatments for cancer, her spirit was upbeat.
In the afternoon of April 26, she passed into the arms of her Beloved at Jesus the Good Shepherd Convent in Grand Prairie, TX. Her Mass of Resurrection was celebrated on May 1 at the convent chapel.
If you would like to make a donation in memory of Sr. Consilia, click HERE.