To share messages of remembrance about a recently deceased sister please visit our Message of Remembrance page.
To make a donation in memory of one of our sisters, click HERE.
Are you looking for a Sister who served in your school, hospital, parish or other ministry?
Please complete our Find A Sister form.
Sr. Celeste Huszcza (1918-2008)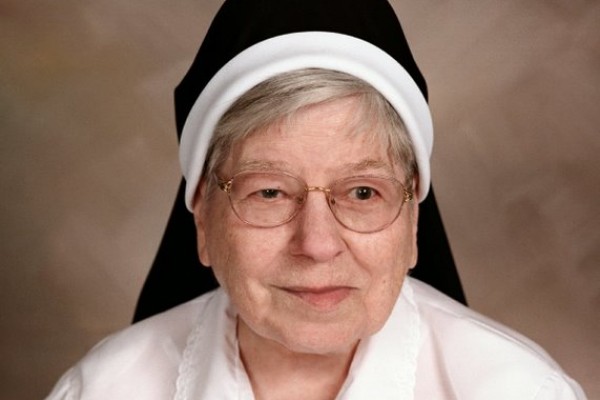 A native of Brooklyn, NY, Emilia Huszcza was born to parents, Camille and Alexander, who themselves were born in Wilno, Poland. They emigrated to the U.S., settled on Staten Island, and then moved to St. John Cantius Parish in Brooklyn where Emilia was born. When she five, a sister, Helen, was born.
Emilia first encountered the Sisters of the Holy Family of Nazareth at the parish school, where she was a star student who played piano for school shows. She joined the congregation in 1936 in Philadelphia, making her final profession in 1945.
Music, languages and learning played important roles in Sr. Celeste's life. One of her fondest memories was playing a minuet by Paderewski for senior graduation. Over the years, she learned to play the organ, trombone, trumpet and saxophone. While at Nazareth Academy, she helped organize the Sisters' Orchestra.
In 1954, she went to Rome to study theology at Regina Mundi Institute. Knowing Latin, she excelled in class. Subsequently, she taught theology at Holy Family College and St. Hubert High School, both in Philadelphia, and at Nativity BVM Catholic High School, Pottsville, PA.
Sr. Celeste continued her language studies at Middlebury College, VT, where she received her Ph.D. in modern languages. She spent a year studying in Spain, and later taught several years at Colegio Espiritu Santo in Puerto Rico.
In 1998, her health starting to fail, she returned to Mt. Nazareth, Philadelphia. She is remembered as she wished: "as a scholar, a good piano player, and a sister who loved languages." She shared much wisdom with her fellow sisters, including this: "Make spiritual wealth a priority."
Sr. Celeste died on June 18.