To share messages of remembrance about a recently deceased sister please visit our Message of Remembrance page.
To make a donation in memory of one of our sisters, click HERE.
Are you looking for a Sister who served in your school, hospital, parish or other ministry?
Please complete our Find A Sister form.
Sr. Geraldine da Silva (1929 - 2019)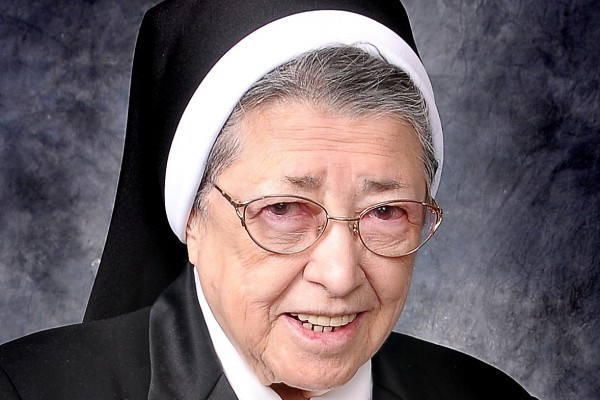 On February 23, 1929, in Hong Kong, God blessed Reginaldo and Lindamira da Silva with another baby girl. The fifth child and the third sister among seven sisters and three brothers, Geraldine was baptized at Rosary Church in Kowloon, Hong Kong, then a British Colony. A generous, vibrant, and happy person, Geraldine was very social and gregarious with a multitude of friends.
Together with her siblings, Geraldine attended Maryknoll Convent School in Hong Kong, except during the Japanese occupation, December 1941 to August 1945. As members of the British Reserves, her father and oldest brother were imprisoned during the war. The family became refugees in Macau, a Portuguese colony. When peace was declared, the family returned to Hong Kong to begin a new life.
In 1959, Geraldine left Hong Kong for a teaching position at one of the Maryknoll schools in the U.S. Due to unforeseen circumstances, she arrived in Irving, TX and began teaching at St. Luke Parish School where the Sisters of the Holy Family of Nazareth served. She earned her Bachelor of Arts degree in elementary and secondary education from the University of Dallas, and her Masters of Arts in art education from North Texas University.
While teaching at St. Luke's School, Geraldine felt the hand of God leading her to religious life. After much discernment, she entered the Congregation in 1960. As a novice, she received the name Sr. Bernardine, but returned to her baptismal name after the Second Vatican Council.
Sr. Geraldine spent 40 years as an educator including assignments at St. Thomas Aquinas School in Dallas, St. Luke and Holy Family Schools in Irving, TX, and St. Andrew School in Fort Worth, TX.
From 1992 until 2006, Sr. Geraldine served in pastoral care and as a member of the hospital support staff at Bethania Hospital Health Care Center (now United Regional Health Care) in Wichita Falls, TX. In 2006, she retired to Grand Prairie, TX but continued to teach religious education classes once a week at the Korean Martyrs Catholic Church in Hurst, TX. Sr. Geraldine's life-long interest in art remained a part of her daily life.
In 2012, she suffered a stroke which paralyzed the right side of her body and caused her to lose the ability to speak properly. Yet, her glowing smile and her love of people remained.
On the morning of May 2, 2019, after the daily Eucharistic Liturgy, the Celebrant of the daily Mass visited Sr. Geraldine in her room at Jesus the Good Shepherd Convent in Grand Prairie, to bestow on her the Sacrament of Anointing of the Sick. As he finished blessing her with the Sign of the Cross and those around her uttered "Amen," she breathed her last breath and went to her heavenly home. Her Mass of Resurrection was celebrated May 6 at the convent chapel in Grand Prairie.
If you would like to make a donation in memory of Sr. Geraldine, click HERE.