To share messages of remembrance about a recently deceased sister please visit our Message of Remembrance page.
To make a donation in memory of one of our sisters, click HERE.
Are you looking for a Sister who served in your school, hospital, parish or other ministry?
Please complete our Find A Sister form.
Sr. Sylvine Czarnecka (1924 - 2019)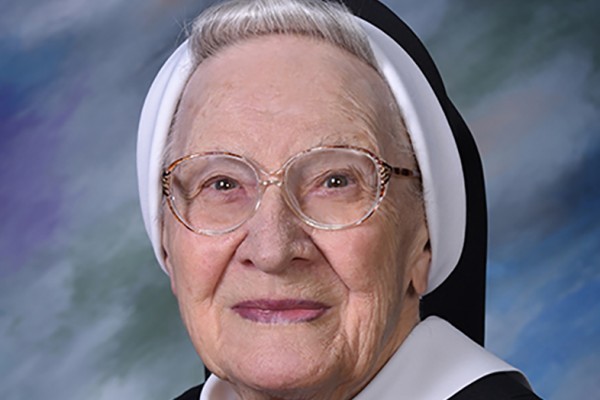 January 10, 1924 – October 3, 2019
Sr. Sylvine was a woman of deep prayer and strong will. During her 78 years in religious life, she spread the Kingdom of God's love with kindness, concern, and thoughtfulness.
Born on January 10, 1924 to Alexander and Sophie (Kosinska) Czarnecki and baptized Frances Mary, she was the oldest of five children. From the beginning, our foundress had an important place in Frances' life. In the sixth grade at St. Stanislaus Bishop and Martyr School in Ozone Park, NY, Frances contracted double pneumonia. Our sisters came to her home to place on her a relic of Blessed Mary of Jesus the Good Shepherd (Frances Siedliska), our foundress. Later Sr. Sylvine wrote of the experience, "No one expected me to live. I was hospitalized, and then sent to a sanatorium to recuperate. After four months, I returned home and was on time to receive the Sacrament of Confirmation."
Frances' father objected to her entering Nazareth Academy in Philadelphia, so she enrolled in Franklin K. Lane High School in New York. She eventually did attend Nazareth Academy, arriving there in September 1939. She entered the Congregation on June 10, 1941. As a second year novice, she and other novices helped the World War II effort by embroidering designs in banners for the various corps of the U.S. Armed Forces. She and her novice group also cut and sent out hosts for Mass to chaplains on the European front. She professed her final vows on August 15, 1950.
From 1944-1946, she attended Holy Family Teacher Training School in Philadelphia, receiving a normal certificate for teaching. She also received a bachelor of arts in education from Holy Family College (now University) in Philadelphia and a master of science in biology from Villanova University, Pennsylvania. Always an avid learner, Sr. Sylvine attended Holy Cross College and Boston College, earning additional credits in physics, chemistry, and biological sciences.
Sr. Sylvine was an enthusiastic and successful teacher. Her first mission was to Hato Rey, Puerto Rico, where she spent nine years teaching in both Colegio Espirito Santo and in missions in Quintana, P.R. She also served in schools in Pennsylvania, Massachusetts, New York, and Connecticut. Altogether, she taught 32 years on the elementary school level and 27 years on the high school level.
Through the years, Sr. Sylvine wrote many cards and letters for family and communal celebrations. Her writing was uplifting and focused on the person to whom she was writing. She always concluded her letters to sisters with "Loving in Mary's Heart" and her name.
As her illness made her progressively weaker, she continued to be present for Mass and Holy Hours, then retired to her room for the rest of the day.
After a long illness, she died on October 3, 2019 at Immaculate Heart of Mary Convent in Monroe, CT. Her Mass of Resurrection was celebrated October 7 at the convent chapel.
If you would like to make a donation in memory of Sr. Sylvine, click HERE.