To share messages of remembrance about a recently deceased sister please visit our Message of Remembrance page.
To make a donation in memory of one of our sisters, click HERE.
Are you looking for a Sister who served in your school, hospital, parish or other ministry?
Please complete our Find A Sister form.
Sr. Irene Geisheimer (1924 - 2019)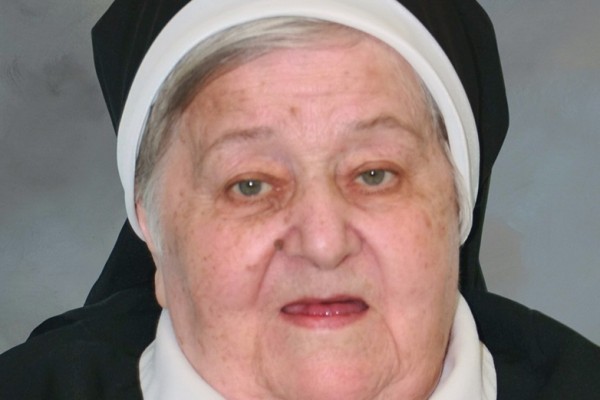 November 10, 1924 - December 8, 2019
A Norwich, CT woman through and through, Sr. Irene journeyed into this world as the daughter of Rudolph and Anna Geisheimer and the sister of Alfred, John, Adele, and Eleanor. After completing her elementary education at St. Joseph's School, she traveled to Nazareth Academy High School in Philadelphia as a student. Entering the Sisters of the Holy Family of Nazareth in June 1941, she professed her final vows in Rome, Italy in May 1950.
Sr. Irene, formerly known as Sr. Amata, received a bachelor's degree from Villanova University and a master's degree from Middlebury College. She also completed studies in German at the University of Wisconsin and traveled in 1973 for a sabbatical to Johannes Gutenberg University in Mainz, Germany.
Ministering in Catholic education at Holy Rosary School in Springfield, MA, as well as at St. Adalbert School and Nazareth Academy High School in Philadelphia, Sr. Irene invested in developing her students' appreciation of the German language and culture. Whether celebrating the culture of German life or the varied activities at Nazareth Academy High School, Sr. Irene's primary focus was to enable the young women she mentored to see God in all things. Always willing to go the extra mile, she never hesitated to scrub that extra pot or to listen to those who sought her advice.
In 2006, Sr. Irene began a new chapter in her life in prayer ministry at Jesus of Nazareth Convent (Mount Nazareth) in Philadelphia. Upon meeting a nurse for the first time, Sr. Irene would say, "Look into the eyes of Jesus and know He made you and He loves you." All those who helped her, received a smile, a blessing, and a thank you from her whenever they rendered her some service.
In November, Sr. Irene celebrated her 95th birthday. The sisters joined her for a singing fest with English and Polish tunes. She received white roses that day which had special significance for her. She had related some time ago that her parents had told her that the soldiers in Poland received white roses upon returning from war and that a special song was sung in their honor. When she still could, she sang that song faithfully each Sunday.
On December 8, Our Lady accompanied Sr. Irene into the hands of her merciful God. Her Mass of Resurrection was December 12 at Jesus of Nazareth (Mount Nazareth) chapel in Philadelphia.
If you would like to make a donation in memory of Sr. Irene, click HERE.