To share messages of remembrance about a recently deceased sister please visit our Message of Remembrance page.
To make a donation in memory of one of our sisters, click HERE.
Are you looking for a Sister who served in your school, hospital, parish or other ministry?
Please complete our Find A Sister form.
Sr. Barbara Ann Nowosielski (1938 - 2019)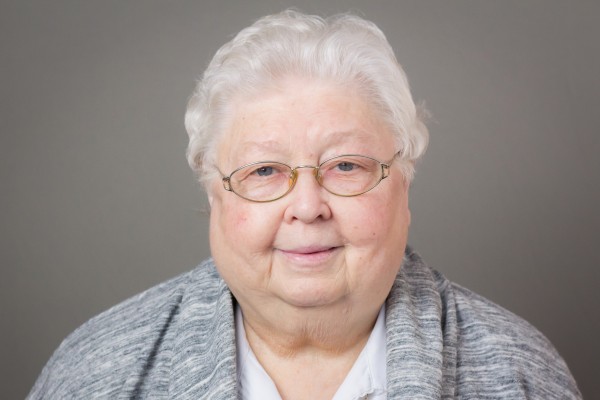 July 24, 1938 – December 18, 2019
Barbara Ann was born July 24, 1938, the first of two daughters of Joseph and Sophie Nowosielski. She grew up on the north side of Chicago, where she, her sister Betty, and their parents lived. Frequent family gatherings and summer picnics contributed to her love for family and her close relationships with relatives.
Sr. Barbara Ann deeply appreciated the love and support of her family throughout her life. She valued the friendships of her youth formed at St. John Cantius Grade School and at Holy Family Academy in Chicago where the seed of her vocation was nurtured. She expressed in her writings that she never really wanted to go there. However, she was grateful for her mother's insistence because of the friendships nurtured there, for the close relationships that lasted a lifetime, and for her vocation.
During her sophomore year at Holy Family Academy, Barbara worked at a bakery where she saw first-hand expertise in baking at work. Later in her life, many would enjoy meals prepared by Sr. Barbara Ann who built community with food.
She entered our Congregation in 1956 and professed her final vows in 1965. She earned a Bachelor of Science degree from De Lourdes College in Des Plaines, IL and a Master of Arts degree in history from Dayton University in Ohio.
Sr. Barbara Ann began serving in education ministry in 1960 at St. Andrew in Calumet City, IL, then moved to Immaculate Heart of Mary in Chicago. In 1965 she was sent to Texas, and spent the next 17 years ministering in Fort Worth, Irving, Dallas, and Grand Prairie as a teacher as well as principal. In 1982, she returned to Chicago and taught at St. Ann School. In 1985, she settled at St. Emily in Mount Prospect, IL where she served for 34 years.
Being an educator was life-giving for Sr. Barbara Ann. She once wrote, "I enjoy the challenge and excitement of teaching young people. They give me life, hope for the future and a sense of satisfaction. Being with youth keeps me young and adventurous."
She loved to serve others and is remembered for her preparation of luscious meals, especially her famous rum cakes. The lessons she taught, the example she gave us, the challenges she laid before us, and the faith she exemplified for us are all gifts that she shared.
Sr. Barbara Ann passed away on December 18. Her funeral Mass was celebrated on December 23 at St. Emily Church in Mount Prospect, IL.
If you would like to make a donation in memory of Sr. Barbara Ann, click HERE.
To read a tribute to Sr. Barbara Ann written by a sister who lived with her in community, please go to Lessons for the young and old.