To share messages of remembrance about a recently deceased sister please visit our Message of Remembrance page.
To make a donation in memory of one of our sisters, click HERE.
Are you looking for a Sister who served in your school, hospital, parish or other ministry?
Please complete our Find A Sister form.
Sr. Audrey Kimbar (1938 - 2020)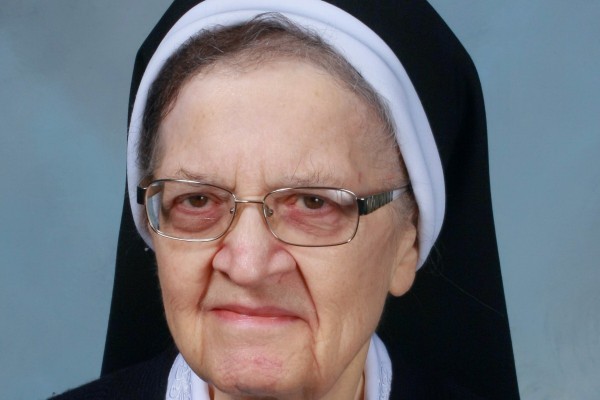 May 1, 1938 – February 3, 2020
Born May 1, 1938 in Worcester, MA to Alexander and Josephine (Sokolowska) Kimbar, Audrey Helen was the thirteenth of fourteen children. She was baptized at Our Lady of Czestochowa Church in Worcester and later attended St. Mary's Grade School and High School where she was educated by the Sisters of the Holy Family of Nazareth. The large Kimbar family provided the love, loyalty, bonding, and communion that would become such an important foundation for Audrey's entire life, enriching not only her natural family, but each local Nazareth community in which she lived.
On graduating from high school, Audrey received a scholarship to college, but instead discerned a call to religious life and entered the Sisters of the Holy Family of Nazareth in1956. The following year, Audrey received her religious name, Sr. Mary Clementia. She later returned to her baptismal name. She spent her novitiate in Rome and returned to the U.S. after professing her first vows in 1959. She professed her perpetual vows in 1965.
She earned a bachelor's degree in nursing from Catholic University in Washington, D.C. in 1964 and a master's in aging from North Texas State University in Denton, TX in 1985.
Through the years, she served at Nazareth Hospital, Blessed John Neumann Nursing Home, and Immaculate Mary Nursing Home in Philadelphia; Holy Family Nursing Services in Allentown, PA; and Bethania Regional Health in Wichita Falls, TX.
In 2001, due to declining health, Sr. Audrey left healthcare and began ministering as an assistant in the library at Nazareth Academy High School in Philadelphia. Her work with faculty, staff, and the young women at Nazareth Academy was an enriching mutual opportunity for the entire school community to experience her compassion and wisdom.
Sr. Audrey loved her ministry at the high school, but due to her progressive illness, she chose to move to Mount Nazareth in Philadelphia where she continued to serve where she could, to listen and offer advice when asked, responding always to anyone in need.
At beginning of January 2020, her health began to decline even more. On the morning of February 3, peacefully and quietly, Sr. Audrey slipped into the hands of her long awaited, Merciful Savior. Her Mass of Resurrection was February 6 at Jesus of Nazareth Convent (Mount Nazareth) Chapel in Philadelphia.
If you would like to make a donation in memory of Sr. Audrey, click HERE.