To share messages of remembrance about a recently deceased sister please visit our Message of Remembrance page.
To make a donation in memory of one of our sisters, click HERE.
Are you looking for a Sister who served in your school, hospital, parish or other ministry?
Please complete our Find A Sister form.
Sr. Alma Bak (1920 - 2020)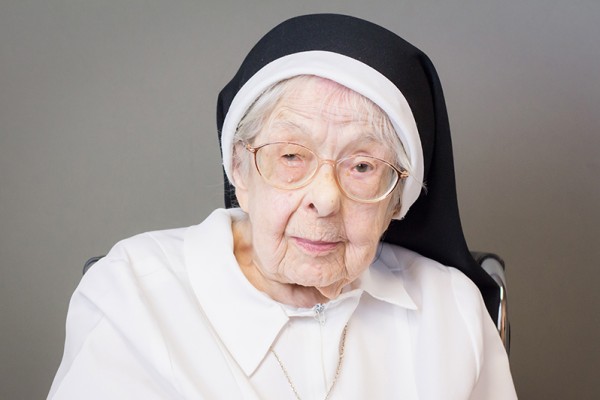 November 26, 1920 – February 28, 2020
Those who knew Sr. Alma were aware of her great sense of humor. She loved telling jokes. During the last few years of her life, when the sisters would get together for celebrations at Nazarethville, it was Sr. Alma's responsibility to come prepared with at least three jokes, which she did faithfully.
Born on November 26, 1920 to Ottilia and Alexander Bak and baptized at Holy Innocents Church in Chicago, Leokadia "Lillian" was the fourth of five children. In seventh grade, she heard a sister share stories about Africa and Asia which inspired her to want to become a missionary so she could convert the masses.
Leokadia responded to God's call and entered our Congregation in July 1940. She professed her first vows on August 1, 1943, the same day the eleven sisters of Nowogrodek were martyred. Sr. Alma had the opportunity to be in Rome on March 5, 2000 for the beatification of Blessed Sister Stella and her Ten Companions.
Sr. Alma began teaching in 1943. She later earned a bachelor's degree from De Paul University, Chicago. Sr. Alma served in many parish schools in the Archdiocese of Chicago, including St. Ann, St. Casimir, St. Hedwig, St. Andrew, St. Adalbert, St. Josaphat, St. Ladislaus, and St. Hyacinth, as well as at St. Adalbert in Whiting, IN. One of her kindergarten students, Brother Jerome, an Augustinian, who stayed in contact with Sr. Alma, said that she planted the seeds of his religious vocation when she dressed him up as a priest for a kindergarten program.
Sr. Alma brought joy, comfort, and love to all those around her and inspired many with her incredible faith. Hard-working, humble, practical, and humorous, Sr. Alma was generous with her time, always listening with her heart to those seeking advice.
For ninety-nine years, God ordained that Sr .Alma, who was small in stature, but with the heart of a giant, should be among us doing His will and spreading love to all whom she encountered. She would have celebrated 80 years in religious life this year.
Sr. Alma passed away quietly and peacefully at Nazarethville in Des Plaines, IL while resting on the afternoon of February 28, 2020. Her wake and funeral were held on March 5 in Des Plaines.
If you would like to make a donation in memory of Sr. Alma, click HERE.