To share messages of remembrance about a recently deceased sister please visit our Message of Remembrance page.
To make a donation in memory of one of our sisters, click HERE.
Are you looking for a Sister who served in your school, hospital, parish or other ministry?
Please complete our Find A Sister form.
Sr. Lucille Lukasiewicz (1930 - 2020)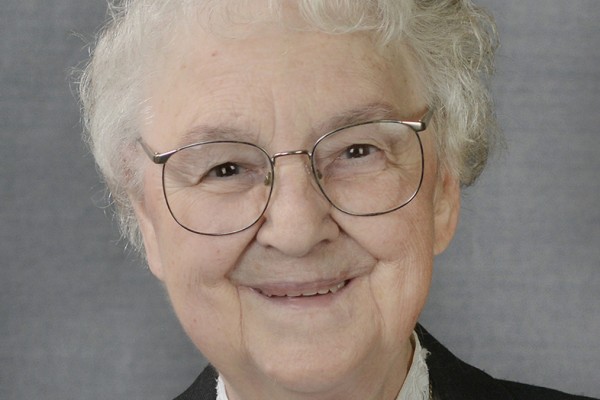 June 10, 1930 – January 21, 2020
Margaret was born on June 10, 1930 to Clement and Anna (Kujawska) Lukasiewicz in the Lawrenceville area of Pittsburgh. She grew up in a neighborhood of row houses that displayed a homey character, reflecting the original Polish immigrants who valued keeping families close to one another and to the Church.
The second of four children, Margaret was baptized in Holy Family Parish and attended the parish grade school staffed by the Sisters of the Holy Family of Nazareth. Because of that early influence, it was no surprise that Margaret chose to attend Mount Nazareth Academy where our Congregation had a high school.
She became a postulant on June 20, 1946, completing her high school education at Mount Nazareth Academy. She professed her first vows in 1951 and final vows in 1957. Sr. Lucille began her life of ministry at Mercy Hospital in Altoona, PA serving as an assistant in the pharmacy department.
Beginning in 1953 in Detroit and later in Erie, PA, Cleveland, OH, and Pittsburgh, Sr. Lucille taught elementary school. Her special caring presence was also felt by students at St. Frances Cabrini High School in Allen Park, MI where she served as librarian beginning in 1967.
In1995, Sr. Lucille began ministering as a manager at John Paul Plaza, a senior hi-rise in Pittsburgh. In 2007, she generously responded to an invitation to live and work at Marian House Manor, an apartment building for seniors at St. Mary Parish in Altoona, PA. Until her retirement in 2015, Sr. Lucille served as live-in night manager and activity director at Marian House Manor. She brought to this ministry her deeply caring heart, her teacher-embedded sense of discipline, and a faith life that permeated all she did.
Although it pained her deeply to leave this ministry, she recognized the tell-tale signs of her increasingly frailer health. As a resident in Holy Family Manor in Pittsburgh, Sr. Lucille kept alive her mission of sharing God's love with others.
Sr. Lucille passed away on January 21 at UPMC Mercy, Pittsburgh. Her Mass of Resurrection was celebrated January 24 in the Holy Family Manor Chapel.
If you would like to make a donation in memory of Sr. Lucille, click HERE.