To share messages of remembrance about a recently deceased sister please visit our Message of Remembrance page.
To make a donation in memory of one of our sisters, click HERE.
Are you looking for a Sister who served in your school, hospital, parish or other ministry?
Please complete our Find A Sister form.
Sr. Regis Wesolowski (1923 - 2020)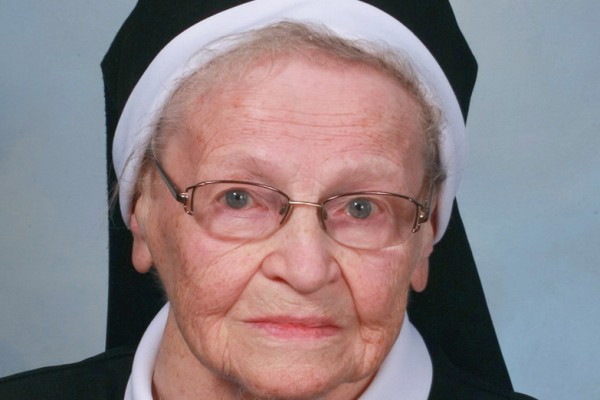 July 12, 1923 - July 25, 2020
God has always been the Master Artist weaving together the colorful components in the life of Sr. Regis Wesolowski.
Born July 12, 1923 to Mary and Wenceslaus Wesolowski, Adele was baptized at St. Josaphat Church in Philadelphia. This is where she later attended elementary school. Nazareth Academy High School became the next step on her journey, the journey which would come full circle when Sr. Regis returned nearly forty years later to teach art at Nazareth Academy.
Adele entered the Sisters of the Holy Family of Nazareth in 1939 after graduating from high school. She received the name Sr. Regis. This was a continuance of a family tradition as her aunt, Sr. Celine Bednarska was already a community member. Soon to follow Sr. Regis was her sister, Sr. Loretta and in due time, her sister Theresa's daughter, Sr. Maria Annette Mallen.
Sr. Regis received a certificate from the Holy Family Teacher Training School in 1944, complemented by a Bachelor of Science in elementary education from Villanova University. She earned a Master in Fine Arts from Catholic University in 1966.
She taught at Nazareth Academy Grade School, St. Adalbert's, Sacred Heart of Mary, St. Hedwig's, Archbishop Ryan High School in Philadelphia and was principal at Queen of Peace in Ardsley, PA. It was during her time at Queen of Peace that God's brushstrokes changed the pattern of her life. A serious car accident left her disabled. The grace of God coupled with her will and determination allowed her, after a long recovery, to add a different perspective to her life's portrait.
In 1975, Sr. Regis began her ministry at Nazareth Academy High School where she instilled in her students a passion for art. In 2000, Sr. Regis developed an interest in icons. This interest fed her soul in numerous ways. She designed Mass cards for the development office as well as producing works of art for the annual CSFN auctions. In 2005, Sr. Regis moved to Mount Nazareth in Philadelphia. There she continued her artistic work as long as she could.
On July 25, 2020, Sr. Regis was united with her Master Artist and Our Lady. The interment was private in keeping with current health and safety guidelines of the Sisters of the Holy Family of Nazareth – Holy Family Province.
If you would like to make a donation in memory of Sr. Regis, click HERE.
To share your messages of remembrance, please visit our Message of Remembrance page. A memorial Mass for Sr. Regis will be held at a future date. If you would like us to notify you of the date and time of the Memorial Mass for Sr. Regis, please email your name and contact information to info@nazarethcsfn.org.