To share messages of remembrance about a recently deceased sister please visit our Message of Remembrance page.
To make a donation in memory of one of our sisters, click HERE.
Are you looking for a Sister who served in your school, hospital, parish or other ministry?
Please complete our Find A Sister form.
Sr. Martin Duffy (1935 - 2020)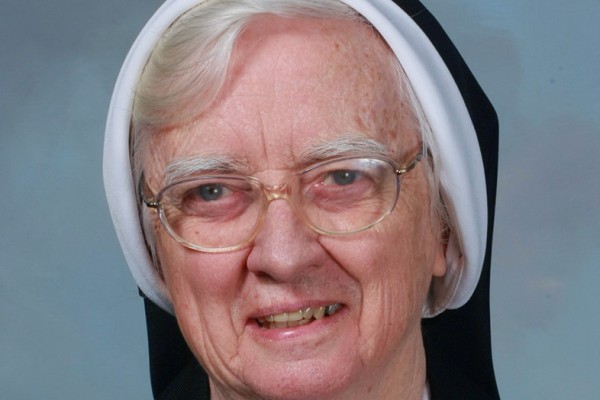 September 10, 1935 – October 22, 2020
With a twinkle in her eye and a broad Irish smile, Sr. Mary Martin Duffy brought kindness and compassion to her ministry as an educator. Born in Bristol, PA, a small town outside of Philadelphia, Geraldine Duffy was the daughter of Bernardine and James Duffy. She grew up with her sister Loretta, attended St. Mark's Elementary School, and received her high school diploma from Nazareth Academy High School. She became a postulant in 1953, professed her first vows in 1956 and her final vows in 1962.
She completed a BA at Holy Family University and an MA in teaching mathematics from Villanova University. Appreciating the essentials of her own education allowed her to bring the wonders of mathematical inquiry to her students.
Sr. Martin's ministerial career led her to serve in Philadelphia at St. John Cantius, Our Lady of Calvary, Visitation BVM, Nazareth Academy High School, and Nazareth Academy Grade School; in Florida at St. Brendan and St. Gregory parishes; and in Puerto Rico at Colegio Espiritu Santo.
Sr. Martin loved a good story and had endless ones on hand. She never failed to elicit a grin from all who heard her jokes or were the recipient of her innocent pranks. According to one sister, "Her laughter could be heard all down the corridor, bringing a smile to everyone." She enjoyed holidays and would find great costumes to dress up for Halloween. On St. Patrick's Day, you could hear her singing, "When Irish Eyes Are Smiling" all day. Sr. Martin enjoyed nature. She treasured taking walks, growing tomatoes and appreciating God's work in nature.
In her retirement at Mount Nazareth in Philadelphia, she enjoyed making rosaries and visiting with the sisters. She always said as she made her rosaries that she prayed for all those who would use them
On October 22 in the early morning hours, Sr. Martin pass away. Her funeral liturgy was celebrated at Mount Nazareth Chapel on October 26.
If you would like to make a donation in memory of Sr. Martin, please visit our Donation in Memory of a Sister page.
To share your messages of remembrance, please visit our Message of Remembrance page.