To share messages of remembrance about a recently deceased sister please visit our Message of Remembrance page.
To make a donation in memory of one of our sisters, click HERE.
Are you looking for a Sister who served in your school, hospital, parish or other ministry?
Please complete our Find A Sister form.
Sr. Adrianne Pelkowski (1908-2008)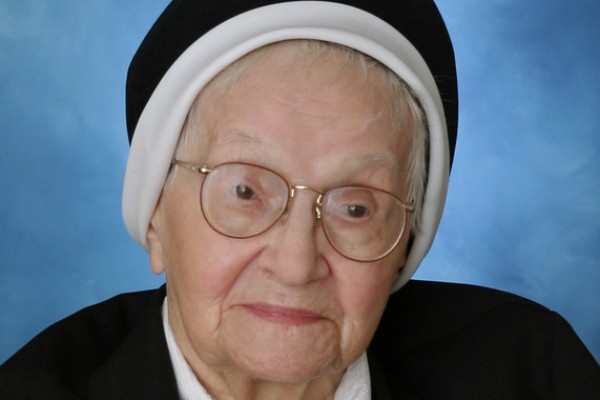 Although she lost a twin sister at birth, Sr. M. Adrianne Pelkowski grew up with no shortage of siblings, four brothers and seven sisters. In her early years, the family lived in the country and she attended public school. When she was 13, the Pelkowskis moved to town, and Mary attended St. Stanislaus School in Erie, PA. There, she noted, her "religious vocation was ignited by a visiting missionary priest who spoke to us about religious vocations." After her mother's death, Mary entered the Sisters of the Holy Family of Nazareth in 1924 in Avalon, PA. Initially, her father objected, but "later relented, telling me that my mother came to him in a dream and told him to permit any of their girls who wanted to be nuns to do so." Later, Mary's younger sister, Victoria, "had no trouble securing his permission to enter."
Sr. Adrianne's ministry began in education, shifting to health care in 1935. She earned her nursing diploma in 1937 and her B.S. in Nursing from Duquesne University in 1947. For 45 years, Sr. Adrianne served as a nurse, administrator and, in retirement, provided pastoral care at various hospitals. In Pennsylvania, she was affiliated with Ohio Valley General Hospital, McKees Rocks; Mercy Hospital (now Altoona Regional Health Care System), and Nazareth Hospital, Philadelphia. In 2001, representing Bon Secours Holy Family Regional Health System, Sr. Adrianne received the Mission Advancement Award from the CSFN congregation.
Sr. Adrianne was the first superior and administrator of Holy Family Manor, Pittsburgh, PA, serving for five years. Later, she would spend 20 years in retirement at the Manor. Several generations of the Pelkowski family joined many sisters and friends on July 5 for Sr. Adrianne's funeral liturgy at the Manor Chapel.