To share messages of remembrance about a recently deceased sister please visit our Message of Remembrance page.
To make a donation in memory of one of our sisters, click HERE.
Are you looking for a Sister who served in your school, hospital, parish or other ministry?
Please complete our Find A Sister form.
Sr. M. Paul Rozanska (1934 - 2021)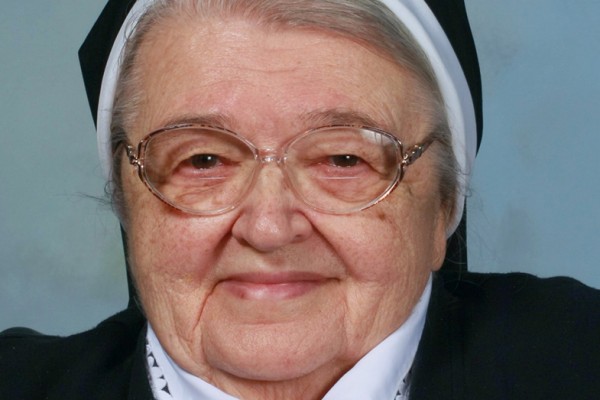 June 5, 1934 - January 13, 2021
Sr. Paul was clever, talented, and knowledgeable woman who centered her life on prayer. She had a humble and quiet nature. Sr. Paul was an avid and knowledgeable fan of the paintings of Thomas Kincaid as well as the music of violinist Andre Rieu. In the everyday, she could often be found completing puzzles, watching Columbo, and enjoying the occasional 5th Avenue candy bar.
Born on June 5, 1934, she was baptized at St. John Cantius Parish in Philadelphia.. The only child of Paul and Genevieve Rozanski, she attended the parish school and later enrolled at Nazareth Academy High School. She was received as a postulant and novice and made her first profession of vows on July 3, 1952 and her final vows on August 12, 1958. Sr. Paul received a BA at Holy Family College (now Holy Family University) in Philadelphia and an MS in math education from Marywood College (now Marywood University) in Scranton, PA. She taught at Our Lady of Czestochowa and Little Flower High School in Philadelphia as well as St. Anthony in Throop, PA and Colegio Espiritu Santo in Puerto Rico. Sr. Paul also was fluent in Spanish and Polish. She served as the director of postulants from 1968 to 1971 and as treasurer at Holy Family University. She retired from the finance office at the university when she was 79.
Sr. Paul carried a quiet affection for everyone in her life. Holidays presented special opportunities for Sr. Paul to engage with those she cared about. At Halloween, she always found a clever costume to dress up in and entertained her students and staff. Sr. Paul also enjoyed making special cookies at Christmas and "jelly eggs" at Easter. She often went out of her way to give of herself to make others smile.
On the afternoon of January 13, Sr. Paul quietly went back to the Lord and His Mother at Nazareth Hospital in Philadelphia. The interment was private in keeping with current health and safety guidelines of the Sisters of the Holy Family of Nazareth – Holy Family Province. To share your messages of remembrance, please visit our Message of Remembrance page.