To share messages of remembrance about a recently deceased sister please visit our Message of Remembrance page.
To make a donation in memory of one of our sisters, click HERE.
Are you looking for a Sister who served in your school, hospital, parish or other ministry?
Please complete our Find A Sister form.
Sr. Irmina Paszkiewicz (1929 – 2021)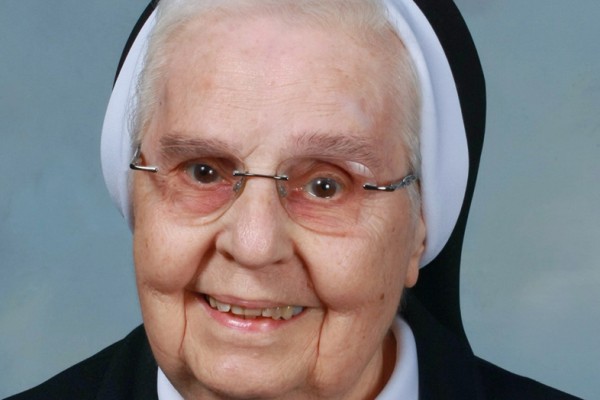 September 28, 1929 – January 27, 2021
From a loving home on the East Coast of the U.S., Sr. Irmina (Evelyn Frances) Paszkiewicz began a journey that can only be compared to that of our foundress, Blessed Mary of Jesus the Good Shepherd, who left Poland for Rome, Italy, and then eventually the U.S.
Evelyn Frances was born in Baltimore, Maryland to Thomas and Frances Paszkiewicz on September 28, 1929. She graduated from Sacred Heart of Mary School and headed to Nazareth Academy High School in Philadelphia. Entering the Sisters of the Holy Family of Nazareth in 1947, she pronounced her first vows in 1949 and her final vows in 1955. Receiving her BA from Holy Family College (now Holy Family University) provided the foundation for Sr. Irmina to begin a worldwide ministry. Her ministry as a teacher led her to St. John Cantius, St. Adalbert, and Nazareth Academy Grade School in Philadelphia. Her next set of travels took her to Colegio Espiritu Santo in Hato Rey, Puerto Rico, where she continued her role of teacher.
In 1962, Sr. Irmina traveled to the Holy Spirit Province in Australia where she served in a variety of ministries including teacher, aspirant directress, superior, principal, assistant provincial, and provincial treasurer. In 1981, she left Australia to return to her home parish of Sacred Heart of Mary in Baltimore. At this time, she also cared for her aging parents who lived across the street from the parish office. Sr. Irmina treasured her family. Through the years, she taught at St. Gregory's in Plantation, Florida; Visitation BVM in Trooper, Pennsylvania; and, Queen of Peace in Ardsley, Pennsylvania.
Sr. Irmina also journeyed to the Philippines to oversee the construction of the Holy Family of Nazareth School. Her legacy remains in the Philippines where the school stands as a silent witness to her zeal and dedication. Her last assignment was aiding our sisters on the infirmary floor of Mount Nazareth in Philadelphia. Quietly stepping in to help out, whether to deliver a tray, hand out mail, or just pray with a sister in pain, were qualities that defined Sr. Irmina.
On the morning of January 27, 2021, Sr. Irmina went quietly back to the Lord at Nazareth Hospital, Philadelphia. The interment was private in keeping with current health and safety guidelines of the Sisters of the Holy Family of Nazareth – Holy Family Province. To share your messages of remembrance, please visit our Message of Remembrance page.