To share messages of remembrance about a recently deceased sister please visit our Message of Remembrance page.
To make a donation in memory of one of our sisters, click HERE.
Are you looking for a Sister who served in your school, hospital, parish or other ministry?
Please complete our Find A Sister form.
Sr. Roberta Garczynska (1929 - 2021)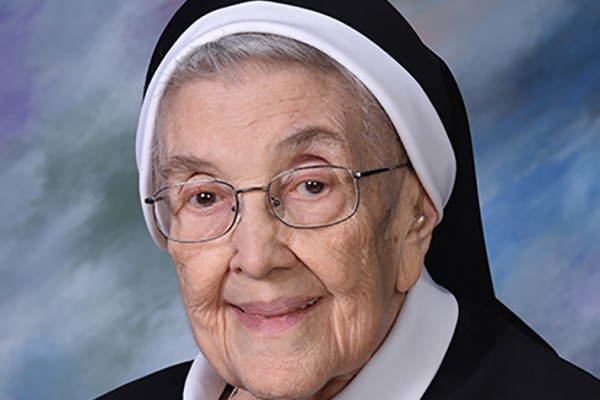 Sr. Roberta (Doloroes) Garczynska was a woman imbued with the spirit of prayer. Faithful to her religious vocation, she was one of the first sisters in chapel every morning. She believed strongly in the power of prayer often asking sisters to pray for her and promising her prayer in return. Sr. Roberta had a deep love and devotion to Our Blessed Mother and the Martyred Sisters. Close to her family, she kept in touch with her nieces and nephew through telephone conversations and visits. An avid reader, her days were spent perusing the daily newspaper, the latest religious newspapers, and spiritual books. She enjoyed sharing what she had learned with the sisters with whom she lived. Her smile attracted many people to confide in her.
Dolores was born in Clifton, Pennsylvania, the eldest of two children born to John and Anna Garczynski. She attended St. Charles Elementary School before enrolling in Nazareth Academy High School in Philadelphia. After graduating, she entered the Sisters of the Holy Family of Nazareth in 1947. She professed her first vows in 1950 and her final vows in 1956. She graduated from Holy Family University with a bachelor's degree in science, and from Villanova University with a master's degree in secondary science.
Sr. Roberta taught for many years, ministering to children at St. Adalbert School in Elmhurst, New York; SS. Cyril and Methodius School, St. Stanislaus Kostka School, and Bishop Ford High School in Brooklyn, New York; St. Stephen School in Paterson, New Jersey; and St. Joseph School in Ansonia, Connecticut. She was also an adjunct professor at St. John's University in Jamaica, New York. However, it was at St. Mary's School, Worcester, Massachusetts, where she spent 27 years as a high school teacher and later as principal of the elementary school. Sr. Roberta was also an accomplished organist, often filling the position of organist in the parishes where she ministered. She retired from active ministry in 2004.
On the afternoon of February 22, Sr. Roberta quietly went back to the Lord at Immaculate Heart of Mary Convent in Monroe, CT. The interment was private in keeping with current health and safety guidelines of the Sisters of the Holy Family of Nazareth – Holy Family Province. To share your messages of remembrance, please visit our Message of Remembrance page.