To share messages of remembrance about a recently deceased sister please visit our Message of Remembrance page.
To make a donation in memory of one of our sisters, click HERE.
Are you looking for a Sister who served in your school, hospital, parish or other ministry?
Please complete our Find A Sister form.
Sr. Florence Klaniecki (1925 - 2021)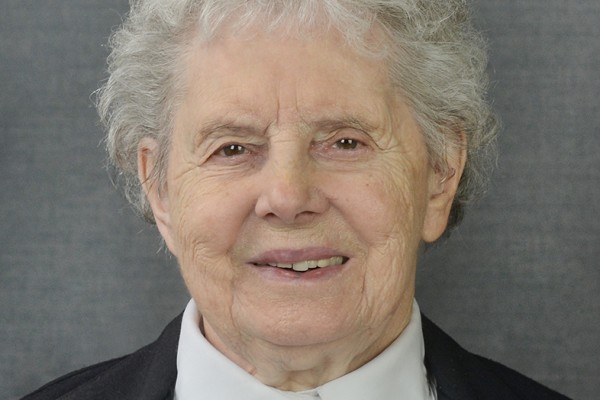 Florence Klaniecki was born in Pittsburgh on November 22, 1925 to Matthew and Laura (Nuszkiewicz) Klaniecki. She was baptized at the former Saints Cyril and Methodius Church in McKees Rocks, Pennsylvania and attended Saints Cyril and Methodius School, staffed by the Sisters of the Holy Family of Nazareth. She completed her high school education at Miles Bryan High School.
Florence became a postulant in 1944 and entered the novitiate in St. Joseph Province on June 24, 1945, receiving the name Sr. Mary Eugene. She later returned to her baptismal name. After completing two years of novitiate, she professed her temporary vows in 1947. She prepared for her perpetual commitment in Albano, Italy and made her final vows on June 29, 1953.
Sr. Florence began her ministry teaching at Immaculate Heart of Mary School in Pittsburgh; and at St. Stanislaus School and in Our Lady of Czestochowa School in Cleveland, Ohio. In 1966, Sister returned to the Provincialate to serve as a provincial councilor, as school supervisor, and dean of studies for the, then, St. Joseph Province.
Sr. Florence was instrumental in developing our Associate program in the St. Joseph Province centralized in Pittsburgh. From 1971 through 1974, she served as one of the Pittsburgh diocesan educational consultants. Concurrently with this role, she began doctoral studies at the University of Pittsburgh. In 1990, Sr. Florence served as director of Mt. Nazareth Learning Center. With nearly a half-decade ministering in education, she inspired countless students to be life-long learners.
Though she left education ministry in 1996, her kindness and compassion for others continued. She served wherever she was needed, including being a chaplain for elderly residents at HCR Manor Care and patient advocate at Mercy Hospital, both in Pittsburgh.
During the morning hours of February 24, 2021, our God gently took Sr. Florence home to eternity at Our Lady of Loreto Convent, Holy Family Manor in Pittsburgh. Sr. Florence was laid to rest in St. Joseph Cemetery on the CSFN grounds in Ross Township, Pennsylvania. To share your messages of remembrance, please visit our Message of Remembrance page.