To share messages of remembrance about a recently deceased sister please visit our Message of Remembrance page.
To make a donation in memory of one of our sisters, click HERE.
Are you looking for a Sister who served in your school, hospital, parish or other ministry?
Please complete our Find A Sister form.
Sr. M. Bernice (Helen) Andrelczyk (1933 - 2021)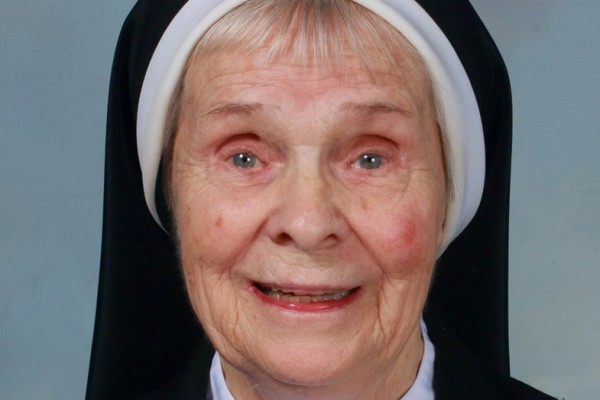 Sr. Bernice was a simple, intelligent, loving person with a Nazareth heart. She loved learning, reading, and helping others. Dedicated to her family, she kept in touch with them, supporting them in prayer.
Born on April 22, 1933 in Throop, Pennsylvania, Helen Mary was the daughter of Anthony and Sabina Andrelczyk, an immigrant family from Poland. She had four sisters and two brothers. Baptized on May 7, 1933, at St. Anthony Church in Throop, she was graced to be part of a family that had strong religious beliefs.
Helen attended the local elementary parish school and, later, St. Paul's High School in Scranton. Upon graduation, she became a postulant in 1950. When she entered the novitiate, she received the name Sr. Mary Bernice. She professed her first vows in 1953, and her perpetual vows in 1959.
Sr. Bernice began her dedicated service in education first in Brooklyn, New York as a first-grade teacher, and later at Nazareth Academy Grade School in Philadelphia. She was always recognized for her ability to assist children in their own growth and development.
In 1959, Sr. Bernice earned her bachelor's degree from Holy Family College and was immediately assigned to teach there. She completed a master's degree at the University of Detroit and continued her studies at Wayne State University where she received a PhD in Chemistry. From 1972 till 1989, Sr. Bernice resumed full-time teaching at Holy Family College where she encouraged students to pursue degrees in the sciences.
After 30 years at the college, she accepted an assignment to serve as the home and school liaison to Saint Mary's Villa in Ambler. She also pursed a degree in pastoral counseling at Newman College, in Aston, Pennsylvania. When Saint Mary's Villa closed, she was transferred to Our Lady of Calvary in Philadelphia, where she continued to work in support services to needy students struggling with math.
In retirement, Sr. Bernice loved to cook, do puzzles, and play games on the computer. She was a homebody, who enjoyed doing the simple tasks that made community life easier for others.
Sr. Bernice passed quietly on June 3 at Mount Nazareth in Philadelphia. The Mass and interment was private. To share your messages of remembrance, please visit our Message of Remembrance page.