To share messages of remembrance about a recently deceased sister please visit our Message of Remembrance page.
To make a donation in memory of one of our sisters, click HERE.
Are you looking for a Sister who served in your school, hospital, parish or other ministry?
Please complete our Find A Sister form.
Sister Annette Allen (1932 – 2021)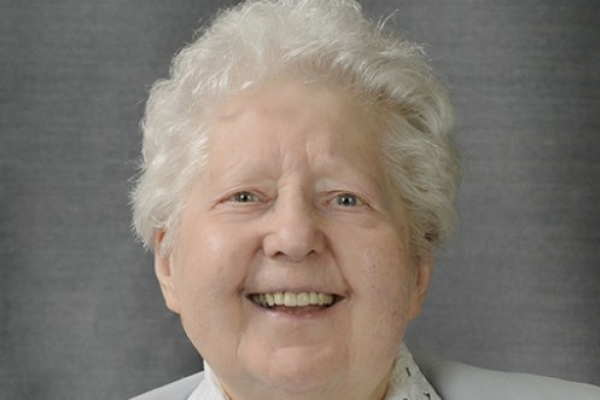 Theresa Allen [Ajdukiewicz] was born July 10, 1932, to John and Hedwig Ajdukiewicz. Theresa was baptized on July 24, 1932, at St Augustine Church, Pittsburgh, PA and entered the Sisters of the Holy Family of Nazareth as a postulant on September 8, 1950, eventually receiving the name, Annette. On August 11, 1959, Sister Annette's perpetual profession took place in Bellevue, thus becoming Sister Mary Annette.
Sister Annette's teaching assignments took her to parishes in Erie, PA, Ohio, Michigan, and Pittsburgh, PA ending in 1973. In 1978, Sister Annette began her career as a Social Minister at St. George Parish in the Allentown area of Pittsburgh, PA, and continued in that position until 1986. She loved working with the parishioners fulfilling their many needs. From 1987 to 1990, Sister Annette worked in the Generalate in Rome, Italy, translating letters of Mother Foundress from Polish to English. From 1991 to 2002, Sister Annette was engaged in Social Ministry at Immaculate Conception Parish in Carnegie, PA, St. Sylvester Parish in Pittsburgh, PA, and St. Albert the Great Parish in Pittsburgh, PA.
Sister was eager to minister wherever she was needed. She spent time helping the administrator at St. Leonard's Home in Hollidaysburg, PA, and as a relief worker at Holy Family Institute. At the then Pittsburgh provincialate, Patronage of St Joseph, she worked as a part-time receptionist.
During her years working with children, teens, and families, Sister had various experiences that led others to find their vocations in life. Sister was also known to encourage the elderly in their limitations and helped organize groups to work for the poor in places where she had previously ministered. Sister was devoted to her family and kept in touch through letters from all the places where she ministered and lived.
In 2013 Sister transitioned to a residency at Holy Family Manor, Pittsburgh, PA, where she enjoyed activities, times of prayer, and being among her sisters and the other residents.
On September 14, 2021, Sister Annette was called home to the Lord. The burial, in Saint Joseph Cemetery, Pittsburgh, was private. To share your messages of remembrance, please visit our Message of Remembrance page. May she rest in peace.