To share messages of remembrance about a recently deceased sister please visit our Message of Remembrance page.
To make a donation in memory of one of our sisters, click HERE.
Are you looking for a Sister who served in your school, hospital, parish or other ministry?
Please complete our Find A Sister form.
Sr. Joanita Paciorka (1908-2008)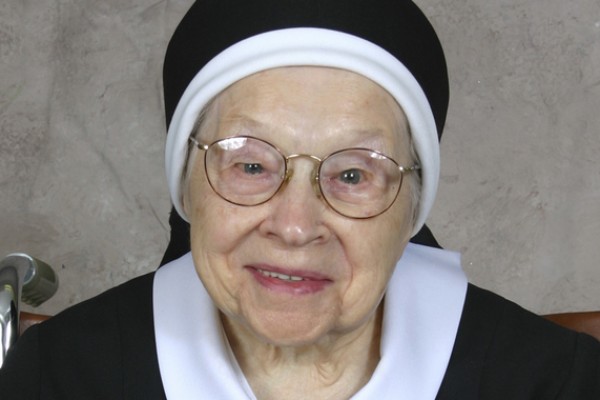 Less than three months shy of her 100th birthday, Sr. Joanita Paciorka slipped quietly away on the afternoon of July 24. Although she enjoyed long life, her death was somewhat unexpected.
Cecilia Paciorka was one of the eight children of Francis and Veronica Paciorka from Scranton, PA. This close-knit family contributed two vocations to the CSFNs – Sr. Joanita and her younger sister, Sr. Estelle, who continues to reside at Marian Heights in Monroe, CT. Family visits to the convents where the sisters were stationed were joyous occasions; sisters who met the Paciorkas were always made to feel a part of this loving family.
Cecilia entered the congregation in 1923. She was received into the novitiate at Des Plaines, IL, in 1925; pronounced first vows in Des Plaines in 1927, and made perpetual vows in Torresdale, PA, in 1933. With the exception of the three years she was superior at St. Christopher's Home in Sea Cliff, NY, Sr. Joanita's life ministry was teaching. From 1927 to retirement, she served at schools in Philadelphia, New York, Connecticut and Massachusetts. In 1992, she retired to Marian Heights in Monroe.
Those who shared reflections on Sr. Joanita's life say little about what she did, but much about who she was as a person. She was the concerned teacher who wrote letters to a former student in the military. She was the teacher who loved and taught by example. Sisters who knew Sr. Joanita for decades say they never heard her voice raised in anger in the classroom or in the convent. They say that Sr. Joanita knew who she was, loved who she was and loved others in the same way.
Sr. Joanita died on July 24.