To share messages of remembrance about a recently deceased sister please visit our Message of Remembrance page.
To make a donation in memory of one of our sisters, click HERE.
Are you looking for a Sister who served in your school, hospital, parish or other ministry?
Please complete our Find A Sister form.
Sister Peter Marie Genuardi (1947-2021)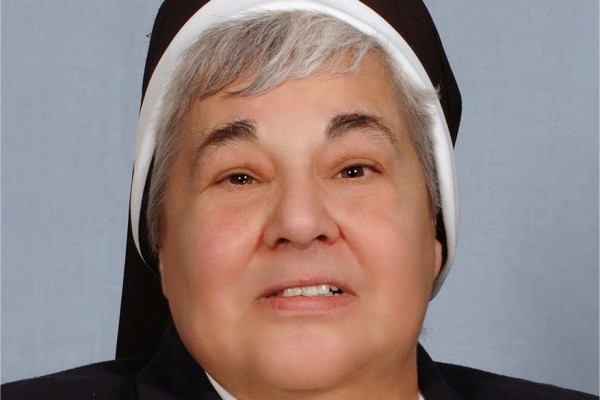 Sister Peter Marie's life revolved around four main loves: her God, her family, her community and her friends.
Born on February 20, 1947 in Norristown, PA to Peter and Ann Marino Genuardi, Immaculata was the oldest girl of the six children in the family which included brothers Joe and Peter and sisters Toni, Anna Marie, and Bernie, with Bernie having the undisputed "pride of place" in the family. Immaculata was baptized on March 16, 1947 at the Church of the Holy Savior in Norristown and then attended that parish elementary school from grades one to six. Seventh and eighth grades found Immaculata at Visitation BVM School in Trooper, PA where she had her first encounter with the Sisters of the Holy Family of Nazareth. She said that "the Sisters were so human, and loved one another so much, and they loved to laugh."
After graduating from Bishop Kenrick High School in Norristown, Immaculata worked for a year in a medical facility in Conshohocken, PA. On September 8, 1966 she became a postulant of Immaculate Conception Province in Philadelphia, PA; she pronounced her First Vows on August 12, 1969 in Meadowbrook, PA and Perpetual Vows on October 12, 1974 in her home parish of Visitation BVM.
Upon graduating from Holy Family College, now University, she primarily taught the 2nd grade. It was her singular joy to prepare these children for the Sacraments of Reconciliation and Eucharist. Her ministry took her to various parishes, including Queen of Peace in Ardsley, PA, St. Kunegunda in McAdoo, PA, St. Katherine of Siena in Philadelphia, PA, St. Gregory in Plantation, FL, Visitation BVM in Trooper, PA, and St. Adalbert in Philadelphia, PA, where she concluded her active teaching ministry with their Kindergarten. She then volunteered as a "Lunch Mother" at St. Christopher's Parish School in Somerton, PA. Sister admitted that she did less monitoring of the lunches but became the quintessential go-to person for the tying of tiny shoelaces. Coordinating and calling BINGO at Mount Nazareth was her special gift.
Retired from teaching, but continuing to minister within Mary of Nazareth Convent, she coordinated the visits of various maintenance personnel who came to service equipment in the convent and to inspect the elevator, the heating and air conditioning systems and the like. She loved to engage the workers in conversations about themselves, their families and world situations. She was truly a daughter of Nazareth – interested in the ordinariness of life.
Her lifelong friendships taught her about a love which deepened and expanded with each passing year. Rooted in God and in her friends, she was able to love others without judgement, forgive quickly, exude kindness, and rise above the pettiness which comes into each of our lives at times.
Sister was called home to the Lord on Sunday, November 7, 2021. To share your messages of remembrance, please visit our Message of Remembrance page. May she rest in peace.