To share messages of remembrance about a recently deceased sister please visit our Message of Remembrance page.
To make a donation in memory of one of our sisters, click HERE.
Are you looking for a Sister who served in your school, hospital, parish or other ministry?
Please complete our Find A Sister form.
Sister M. Consolata Pylilo (1922-2022)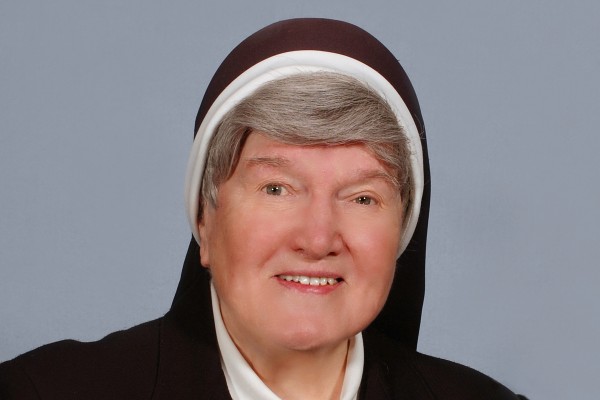 Sophia Pylilo was born on April 29, 1922 to Augustine and Stefania Pylilo in Brooklyn, New York. She was the youngest of seven children, all baptized and educated at Saints Cyril and Methodius Parish. When Sophia was four years old, her older sister entered the Sisters of the Holy Family of Nazareth
After eighth grade she entered Nazareth Academy High School in Philadelphia, PA. She became a novice in 1940, receiving the name Sister Consolata, and made her perpetual vows in 1948. Sister Consolata was one of five founding Sisters at Colegio Espiritu Santo in Puerto Rico in 1944. She received a BS from Marywood College, an MA from Villanova University and a diploma from the University of Madrid in Spain.
Various teaching assignments led her to St. John Cantius, Nazareth Academy High School, and Holy Family College in Philadelphia, Sacred Hearts of Jesus and Mary in Scranton, PA, Nativity BVM High School, Pottsville, PA, and Queen of Peace in Ardsley, PA. However, there was no doubt that her fifteen years in Puerto Rico were in her own words, "a beautiful experience - the happiest years of my life." Many of her students from Colegio Espiritu Santo, who are now grandparents, had kept in touch with her over 50 years.
Taking to heart the words of Mother Foundress that "each soul should proclaim the glory of her Creator," she began a choir and they sang for high school activities and school Masses, while her adult choir sang for Sunday Masses. God gifted Sister Consolata with a love for music, whether she was singing or playing the guitar. Retiring to Mount Nazareth in 1998, Sister often visited with other Sisters and joined in singing favorite hymns.
On January 24, 2022, Sister Consolata was called home to the Lord. Sister had spent her nearly 100 years on earth praising her Lord, and now she can spend eternity praising Him face to face. To share your messages of remembrance, please visit our Message of Remembrance page. May she rest in peace.