To share messages of remembrance about a recently deceased sister please visit our Message of Remembrance page.
To make a donation in memory of one of our sisters, click HERE.
Are you looking for a Sister who served in your school, hospital, parish or other ministry?
Please complete our Find A Sister form.
Sr. M. Dorothea Jurkowski (1936 – 2022)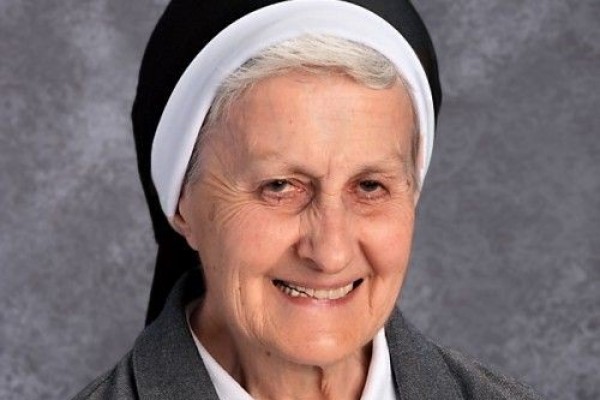 Sister Dorothea was born on January 8, 1936 in Springfield, MA to Mary (Czop) and John Jurkowski. The youngest of twelve children, being born after her twin sister, Dorothy, she was baptized in Our Lady of the Rosary Church and given the name Dolores. She attended Our Lady of the Rosary Elementary School and Cathedral High School, both in Springfield, and entered the Congregation of the Sisters of the Holy Family of Nazareth on September 8, 1954.
A year later, Dolores entered the novitiate in Albano, Italy and received the name Sister Dorothea. Returning to the United States in1957, she was assigned as teacher at St. Cyril and Methodius School in Brooklyn, New York. Sister Dorothea earned her BA from Holy Family College Philadelphia, PA and her Masters in English from St. John's University, Jamaica, NY. She minister in education as a teacher or principal at St. Cyril and Methodius School and St. Stanislaus Kostka School in Brooklyn, NY; Holy Cross School, Maspeth, NY; St. Mark School, Stratford, CT; St. Stephen School, Paterson, NJ; and St. Mary Elementary School, Worcester, MA.
In 1966, Sister Dorothea became Director of Novices and Temporary Professed Sisters, serving through 1971. She was later elected as Assistant Provincial of the Immaculate Heart of Mary Province. In 2020, Sister Dorothea retired to Immaculate Heart of Mary Convent in Monroe, Connecticut where she happily and enthusiastically lived her retirement years.
Sister Dorothea embraced life, loving so many different things. She had a great sense of humor and always thought of others before herself. An avid baseball fan, Sister Dorothea continued to follow her favorite team – the New York Yankees, well into her retirement. In fact, so excited was Sister about the Yankees that she "converted" her table companions to the sport! Each morning after a baseball game, the breakfast table conversation was about the team's loss or victory from the previous night's game. Sister Dorothea will be remembered for her trust in God, kindness, simplicity, love of life, devotion to her family, willingness to serve others, and her eternal smile.
Sister Dorothea passed peacefully on May 28, 2022. To share your messages of remembrance, please visit our Message of Remembrance page. May she rest in peace!