To share messages of remembrance about a recently deceased sister please visit our Message of Remembrance page.
To make a donation in memory of one of our sisters, click HERE.
Are you looking for a Sister who served in your school, hospital, parish or other ministry?
Please complete our Find A Sister form.
Sister M. Constance Sabalauskas (1942 – 2022)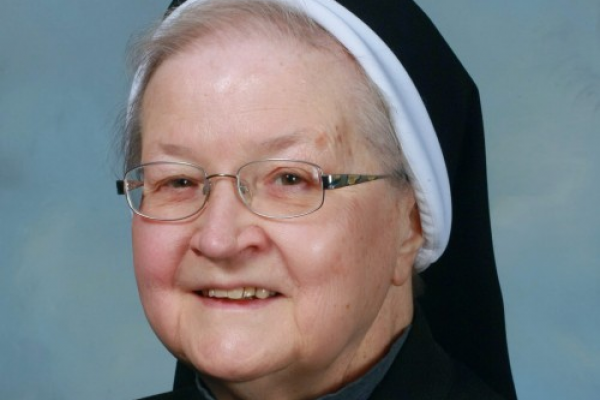 Constance Helen Sabalauskas was born on April 10, 1942 to parents Stanley and Helen, and was baptized in the parish of St. Stanislaus in Philadelphia, PA. It was here that she received her sacraments and was schooled up to eighth grade, continuing her education and vocation journey at Nazareth Academy High School, Holy Family College, and Villanova University in the pursuit of a BA and MA in English. Further schooling at the University of Dallas produced an MA in Theological Studies.
Her entrance into Nazareth was generated as she spent time at Nazareth Academy. After postulancy and novitiate, Sister received the name Sister Chrysostom. Later, Sister Chrysostom reverted to her baptismal name of Constance and began sowing the seeds of her ministries.
The "Teacher", as she was known to the postulants and novices she trained at Villa Nazareth in Meadowbrook, PA, continued to teach at St. John Cantius and Nazareth Academy High School in Philadelphia as well as Queen of Peace in Ardsley, St. Mary's Home in Ambler, Colegio Espiritu Santo in Puerto Rico, St. Brendan's in Miami, and St. Thomas Aquinas in Texas. She also held the positions of Superior, Principal, and Guidance Counselor at various points in her life. Whether she was instructing the Postulants and Novices or her students, she embedded principles of faith and love.
Her reading and writing were infused with a sense of purpose that led her to generate thoughts that directed her life. Her participation in the Sisters' Orchestra enhanced her love of music. Her knowledge of flowers, flora, and fauna were intermingled with her musings about poetry, prose, and plays. All of these allowed her to see the spirit of the divine love in every facet on earth. Sister Constance spent the last five years of her life in retirement at Mount Nazareth. She spent the last week of her life at Nazareth Hospital in Philadelphia.
Sister Constance was called home to the Lord on April 7, 2022. To share your messages of remembrance, please visit our Message of Remembrance page. May she rest in peace.