To share messages of remembrance about a recently deceased sister please visit our Message of Remembrance page.
To make a donation in memory of one of our sisters, click HERE.
Are you looking for a Sister who served in your school, hospital, parish or other ministry?
Please complete our Find A Sister form.
Sister M. Teresita Morales (1934 – 2022)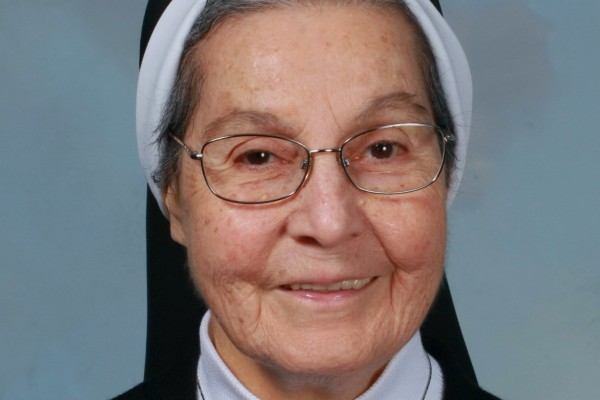 Juanita Morales was born on March 12, 1934 in Río Grande, Puerto Rico, to Eloy and Dolores Morales, the youngest daughter among three brothers and four sisters. In addition to her immediate family, from the time she was eleven years old, Sister lived in Hato Rey, Puerto Rico, with her first cousins, Juan and Juana Blaimayar, whom she also considered as a brother and a sister.
Her move to Hato Rey opened the door for her to meet the Sisters of the Holy Family of Nazareth at Colegio Espíritu Santo; upon completing her senior year as a member of the Colegio's first graduating class, she entered the Congregation in 1953, taking the name Sr. Teresita of Jesus and making her final vows in 1962.
Sister attended Holy Family College (Holy Family University), Philadelphia, majoring in Spanish, and St. Charles Seminary, Philadelphia, receiving a Master's in Religious Studies. Sister spent one year in New York at St. Cyril and Methodius, after which she returned to Colegio Espíritu Santo from 1956 to 1984. She taught various classes over the years, becoming principal of Pre-K through eighth grade for nine years. In 1988, Sister completed the school year as principal at Academia del Carmen, Carolina, Puerto Rico, then taught there until 1999. In 2012, Sr. Teresita was transferred to Mount Nazareth, Philadelphia, PA, and continued preparing children for the sacrament of the Eucharist at Nazareth Academy Grade School, Philadelphia.
In 2015, Sr. Teresita transitioned into a special mission that emanated from her kind heart as she sought to serve Sisters' needs at Mount Nazareth, Philadelphia. With simplicity and love, Sister cared for the physical needs of ailing Sisters and handled daily tasks in cooking and cleaning.
In short, Sr. Teresita, simple and sincere in her actions, lived in union with Christ totally dedicated to serving her Sisters and co-workers kindly and joyfully while showing interest in families, former students, her flowers, and current events. She indeed had a green thumb. Flowers, especially orchids, just bloomed at her fingertips!
Early in the morning on September 14, 2022, the Feast of the Exaltation of His Holy Cross, Sr. Teresita went home to God. To share your messages of remembrance, please visit our Message of Remembrance page. May she rest in peace.