To share messages of remembrance about a recently deceased sister please visit our Message of Remembrance page.
To make a donation in memory of one of our sisters, click HERE.
Are you looking for a Sister who served in your school, hospital, parish or other ministry?
Please complete our Find A Sister form.
Sr. Jeanette Lawlor (1933 – 2023)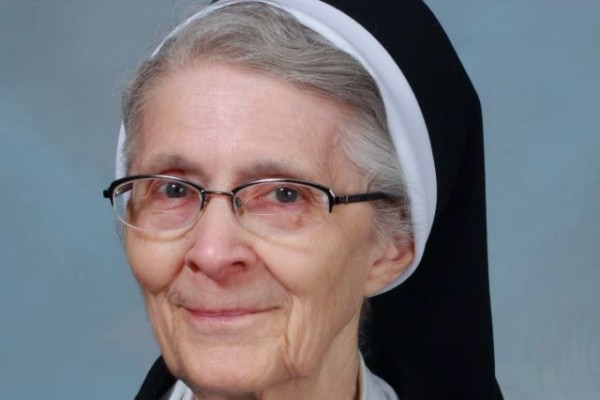 Joan Lawlor was born on August 19, 1933, in the Tacony section of Philadelphia, PA, and baptized in St. Leo's Church. Following a family move to New Jersey, Joan attended high school at Nazareth Academy and entered the Sisters of the Holy Family of Nazareth in December of 1950. She was accepted into the novitiate in 1951, taking the name Sr. Jeanette, and made her first profession two years later in 1953, with her final profession made in 1959.
Sr. Jeanette received a Bachelor's degree in Mathematics from Holy Family College in 1963, followed by a Master's degree in Elementary Education from Villanova University in 1974. She then began her ministry in education, sharing her gifts with Nazareth Academy Grade School, St. John Cantius, St. Stanislaus, St. Katherine of Siena, and Our Lady of Calvary. She also taught at Queen of Peace in Ardsley, Visitation in Trooper, St. Gregory in Plantation, Florida, and Colegio Espiritu Santo in Puerto Rico. Teaching God's children was a passion of hers because in them she found the spirit of Nazareth.
From 1989 to 1995, Sr. Jeanette served as Provincial Superior in the Immaculate Conception Provice, and in 1994 established the first Development office in that province. She served as principal of Nazareth Academy from 1999 to 2003, where she was remembered as "sweet, kind and funny" and called "the best nun that Nazareth ever had." Someone said she was "kind, patient and a role model" and another remembered her "gentle goodness and welcoming kindness."
She then took up ministry in the administrative offices at Holy Family University, where she was able to connect with university students and share her well-known kindness. In June of 2001, she served as delegate to the General Chapter being held in Rome, Italy.
A woman of prayer, Sister Jeanette could often be found in Chapel imploring Our Lord and his Blessed Mother to take care of the many for whom she had promised prayer. She never hesitated to reach out to those in need. While enjoying active engagement in her many ministries, Sister Jeanette also enjoyed being quiet and contemplative. She demonstrated a deep understanding of humanity and was a wise leader. Many people benefited from her kind words of counsel. Whether reading a good book or kicking up her heels at a celebration, she was fully engaged with those around her.
On January 9, 2023, Sr. Jeanette went on to meet the Lord. To share your messages of remembrance, please visit our Message of Remembrance page. May she rest in peace.