To share messages of remembrance about a recently deceased sister please visit our Message of Remembrance page.
To make a donation in memory of one of our sisters, click HERE.
Are you looking for a Sister who served in your school, hospital, parish or other ministry?
Please complete our Find A Sister form.
Sr. Mary Clare Nguyen (1997 – 2023)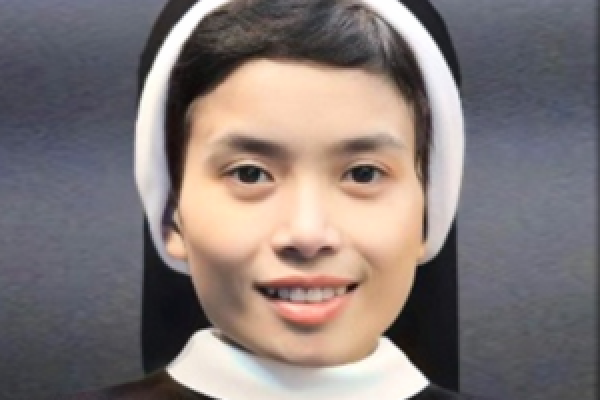 Binh Nguyen was born on February 23, 1997 in Daklak, Vietnam, to Quang and Tam Nguyen, joining siblings Jimmy and June, and, later, the addition of younger sister Chinh. Her parents described her as quiet and loved by the people of their village. She enjoyed Bible studies and playing the guitar, and devoted many hours speaking with the elderly people of the village.
At 17, Binh traveled to the United States, earning her Associates Degree in Science at Dallas College in Texas with a hope to one day work in the medical field of radiology.
Raised Catholic, Binh's parents instilled in her the importance of praying daily, attending Mass, and celebrating religious events and devotions. She recalled conversations her parents had with their children about religious life.
Living in North Carolina with Jimmy and June, Binh told of her desire to enter religious life; Jimmy helped direct her to Sr. Emmanuella Le, CSFN, who accompanied Binh to her first discernment weekend in Texas. In September 2019, Binh entered the affiliate program; in June 2020, Binh became a postulant; and in August 2021, Binh became a novice, taking the name Sister M. Clare.
Sr. Clare loved her family and often shared stories about them. She was interested in traveling, reading, listening to music, running, having fun, and praying. Sr. Clare enjoyed the beauty of God's creation, often stopping to immerse herself in nature.
Sr. Clare's smile was contagious. People enjoyed her quick wit, sense of humor, lighthearted spirit, positive attitude, and cheerful presence. She was a person of integrity and showed great respect for everyone; she was also inviting and inclusive, strengthening the community with her generosity and gentleness. Any pain or suffering she was experiencing was unnoticeable; a smile was always on her face. Her clever responses lightened everyone's spirits and she appeared to be always in God's presence.
Always willing to assist in whatever needed to be done, Sister Clare could often be found in the kitchen preparing meals for herself and her local community. She helped decorate the house for holidays, completed chores, and helped to serve others in spite of physical limitations, all the while suffering through pain and discomfort that she never voiced, not allowing her struggles to keep her from living her life to the fullest.
Sr. Clare professed her First Vows on February 25, 2023, and despite illness was able to attend daily Mass on most days, participate in adoration, and even took time to make sandwiches to feed the homeless. She was an inspiration to many in the way she carried her cross. God sent Sister Clare to us as a gift and her mission, in the short three years she was with us, was to be a calm witness of how to suffer in Christ, to patiently bear the cross, and to trust in the light of God's love and goodness even amid uncertainty.
Sister Clare went home to God on April 8, 2023. To share your messages of remembrance, please visit our Message of Remembrance page. May she rest in peace.