To share messages of remembrance about a recently deceased sister please visit our Message of Remembrance page.
To make a donation in memory of one of our sisters, click HERE.
Are you looking for a Sister who served in your school, hospital, parish or other ministry?
Please complete our Find A Sister form.
Sr. Mary Bernard (1943 – 2023)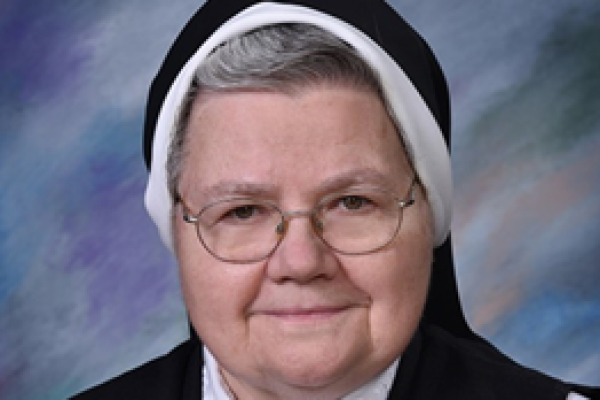 Ursula Veronica Wiecezak, the oldest of three children born to Stanley and Frances Wiecezak came into the world on Father's Day, June 20, 1943. Ursula was baptized at her home parish of Our Lady of Czestochowa in Brooklyn, New York on July 11, 1943.
Ursula's first encounter with the Sisters of the Holy Family of Nazareth was in kindergarten at Our Lady of Czestochowa School, South Brooklyn. After graduating from Bishop McDonnell Memorial High School on June 26, 1960, having completed the four-year curriculum in 3 1/2 years, Ursula entered the Congregation of the Sisters of the Holy Family of Nazareth in the Immaculate Heart of Mary Province on September 8, 1960. Her postulancy was completed in Torresdale and Meadowbrook, Pennsylvania. She was received into the novitiate in Torresdale on August 10, 1961, and received the name Sister Mary Bernard. Sister professed her first vows in Torresdale on August 12, 1963, and perpetual vows on August 11, 1968, in Monroe, Connecticut. Following the community custom of adding a mystery to her religious name, she chose "the Word Incarnate" focusing on the divinity and humanity of Jesus.
Sister Mary Bernard continued her studies at Holy Family College (presently Holy Family University) in Torresdale, PA, earning a bachelor's degree in history. She went on to attain a master's degree in social science at Marywood University in Scranton, PA. Her ministerial life centered on elementary, secondary, and university education. Sister taught in schools in Paterson and Lincoln Park, NJ; Utica, Glen Head and Elmhurst, NY; Stratford, Trumbull and Fairfield, CT; and Worcester, MA. She ministered in childcare at Little Flower Children's Home in Wading River, NY and was principal at Our Lady of Poland School in Southampton, NY. She continued to minister to families in every imaginable situation before answering the call of her Superior General to serve in the English Division of the Vatican Secretariat of State while residing in the Motherhouse of the congregation in Rome. In 2010 her adventures took her to Nazareth, Israel where she was asked to teach conversational English to three Polish Sisters of our congregation.
Sister Mary Bernard had a love for life, a love for her congregation, a special love for the needy, and a love for God's people whom she served tirelessly for countless years. A woman of courage, of prayer, and of love she wanted to be remembered with the following quote:
"The events of our lives, when we let God use them, become the mysterious preparation for the work He has prepared us to do. One could say that my life has been one long adventure. Adventure was my life. When I die there will be a final adventure before me upon which only, I can embark. This will be my greatest adventure of all!"
Sister was admitted to St Vincent's Medical Center on September 22nd, for what would be her last earthly adventure. God called Sister home in the early morning hours of Saturday, September 23rd. To share your messages of remembrance, please visit our Message of Remembrance page. May she rest in peace.