To share messages of remembrance about a recently deceased sister please visit our Message of Remembrance page.
To make a donation in memory of one of our sisters, click HERE.
Are you looking for a Sister who served in your school, hospital, parish or other ministry?
Please complete our Find A Sister form.
Sr. Teresita Eskra (1931-2009)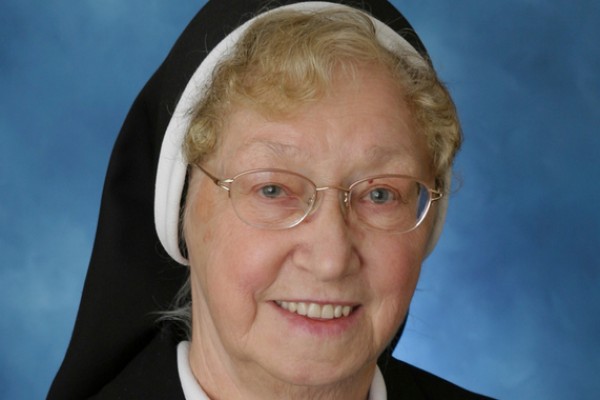 Sr. Teresita Eskra may have been a native of Cleveland, but she called Detroit home for decades, and the people of St. Christopher's Parish, Detroit, turned out by the hundreds for her wake and funeral service. She knew people from all over Detroit, regularly attending parish festivals across the city. Sr. Angelica Zajkowski explains: "Desiring to follow the example of her patron, St. Teresa the Little Flower, Sr. Teresita spread the good news of the gospel in her own "Little Way." Wherever she went, she always carried her bag filled with rosaries, prayer cards and medals. Together with her close friend, the late Sr. Hyacinthe Kaczor, she would strike up conversations with people at meetings, in stores, hospitals, schools and around the neighborhood, promising prayer for personal intentions and distributing the religious mementos." At her wake, a young woman, non-Catholic, told one of the sisters she would always pray the rosary Sr. Teresita had given her.
Sr. Teresita's own "little way" took her to parish schools in Michigan, Ohio and Pennsylvania, as well as to Holy Family Institute, Emsworth, PA. Most of her ministry was in the classroom, but she also ministered in food service. She held a bachelor's degree from Duquesne University, Pittsburgh, and a diploma in dietary administration from Fontbonne College, St. Louis. While her professional career in food service was relatively short, she was know as a wonderful cook and often served special meals and desserts to CSFN meetings at St. Christopher's. She collected donations for the Capuchin Food Kitchen in Detroit and for the many struggling families who lived near the parish. The basement of the convent was a treasure trove of food staples, used clothing and assorted donations.
Sr. Teresita was tenacious in her commitment to life; neither a long battle with MS nor a relatively short battle with leukemia could keep her down. She was still distributing religious mementos on her last hospital visit. She died on April 17.