To share messages of remembrance about a recently deceased sister please visit our Message of Remembrance page.
To make a donation in memory of one of our sisters, click HERE.
Are you looking for a Sister who served in your school, hospital, parish or other ministry?
Please complete our Find A Sister form.
Sr. Raphael Pazdziora (1910-2009)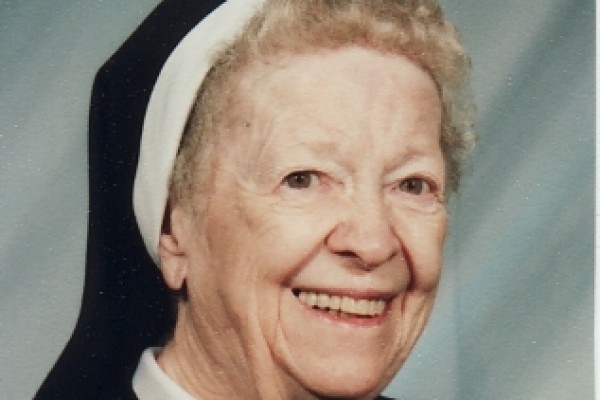 A native of Bethlehem, PA, Sr. M. Raphael (Juliana) Pazdziora spent 83 of her almost 99 years as a member of the Sisters of the Holy Family of Nazareth, with 67 of those years as a teacher.
One of six children, Sr. Raphael was baptized at St. Stanislaus Church in Bethlehem, PA. She began her education in public school, and after four years, transferred to St. Ann School for the rest of her elementary education. She attended Holy Family Academy in Chicago, and entered religious life in 1926.
She continued her education at DePaul University, Chicago, while teaching elementary school. Sr. Raphael also did graduate studies at Notre Dame University, St. Xavier College and Clarke College.
During most of her teaching ministry, Sr. Raphael taugh in the Chicago Catholic schools, particularly in grades 5 - 8. In Chicago, she taugh at St. Hedwig, St. Michael, Holy Family Academy and St. Ladislaus. She also served at St. Benedict in Roundup, MT, and St. Stanislaus Bishop & Martyr, Kankakee, IL. Sr. Raphael served as principal at St. Casimir, South Bend, IN, and at St. Hedwig, Chicago (her second stint there). She also was known for arranging floral bouquets for the altars at the parish churches where she served. Retiring in 1996, she moved to Nazarethville in 2000.
Sr. Raphael was regarded as a great teacher who was kind and gentle, yet expected her students to toe the line and achieve much. As a local superior, she was loved and respected for her understanding, generosity and patience. She loved and was proud of each member of her family. Her sister Gabriel, who preceded her in death, had joined Raphael in her vocation with the CSFNs.
A former student of Sr. Raphael's at St. Hedwig recounts a story that illustrates her tenacity and flexibility. He struggled with a hip condition that required the use of crutches. The boy's parents prepared to transfer him to another school, given the many stairs at St. Hedwig. Sr. Raphael worked around those problems, enabling this student to remain with his school community.