To share messages of remembrance about a recently deceased sister please visit our Message of Remembrance page.
To make a donation in memory of one of our sisters, click HERE.
Are you looking for a Sister who served in your school, hospital, parish or other ministry?
Please complete our Find A Sister form.
Sr. Eugene Mikrut (1911-2010)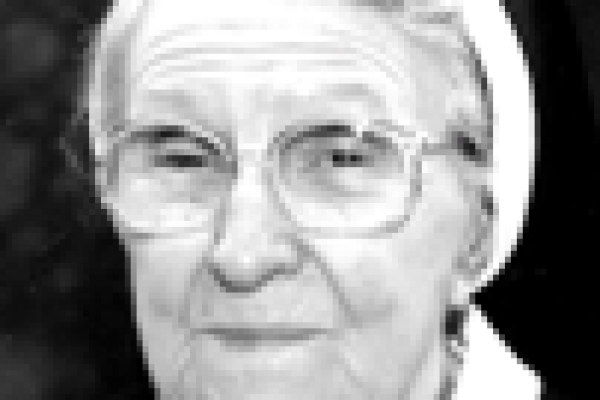 One of five children, Rosalie Mikrut was born in the Pilsen neighborhood on Chicago's west side. She attended St. Ann Elementary School and Holy Family Academy, Chicago, where she began to consider a vocation to religious life. She joined the CSFNs in 1927 at their convent in Des Plaines, IL.
Her teaching assignments included St. Ladislaus School(twice), St. Mary of Nazareth and St. Michael schools, all in Chicago. She spent 15 years teaching at St. Joseph School, a mission for African-American families in Chicago. In 1971, she began an assignment in Australia, teaching at St. Andrew School and serving as province treasurer. On her return to the States, she began her second tour of duty at 'St. Lad's.' Her continued contact with some of her former students until her final days on earth is testimony to her impact in the classroom.
Long before she retired from teaching in 2000, Sr. Eugene assisted Sr. Angela Marie Struck in making rosary beads from dried rose petals and assembling rosaries. As Sr. Angela's eyesight and health began to fail, she asked Sr. Eugene to take on the task. Sr. Eugene excused herself, citing the time constraints of teaching. After Sr. Angela died, Sr. Eugene had regular dreams with Sr. Angela asking her to make the rosaries. While she knew very little about making the beads from dried rose petals, Sr. Eugene learned by trial and error until she mastered the art. News of her talent reached many parts of the U.S. and the orders became too numerous for her to handle. She taught lay people the skill; one young lady continued to help Sr. Eugene with this project over the years.
In January 2000, Sr. Eugene became ill and could not continue this hobby that had become a ministry of spreading devotion to the Blessed Mother. With each rosary, Sr. Eugene set a booklet explaining the mysteries of the Rosary. Sr. Eugene's lay volunteer and her family continued this practice on Sr. Eugene's behalf.
In July 2000, Sr. Eugene retired to Nazarethville, where she was active until ill health required her move into nursing care. On Jan. 13 this year, two good friends – Carmen Vaughn, a former student, and Sr. Joseph Plewa, her companion of many years, kept vigil, prayed the rosary and shared fond memories of their days at St. Joseph Mission School. Sr. Eugene died quietly in her sleep the morning of Jan. 14.