To share messages of remembrance about a recently deceased sister please visit our Message of Remembrance page.
To make a donation in memory of one of our sisters, click HERE.
Are you looking for a Sister who served in your school, hospital, parish or other ministry?
Please complete our Find A Sister form.
Sr. Theophane Lemanska (1912-2010)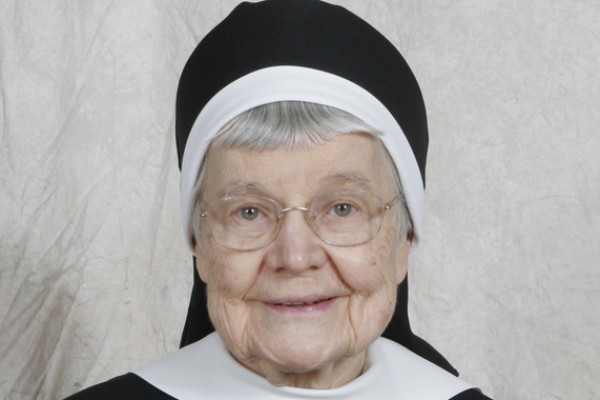 A native of Chelsea, MA, Rose Lemanska was the fifth of nine children of Peter and Catherine Lemanska, who had emigrated from Poland. Five children, all sons, died at a young age. Of the four daughters, two – Rose and her sister Helen (Sr. M. Adeline) – joined the Sisters of the Holy Family of Nazareth.
In her own words, Sr. Theophane later said she felt called to religious life as a CSFN while in 8th grade at St. Mary's School, Worcester, MA. She and other girls would visit Sr. Akwitana's 1st-grade classroom to observe Sister's teaching methods. The girls also attended a weekly novena to St. Anthony, praying to become religious sisters. After graduation, five of them – including Rose – entered the CSFNs. They attended Nazareth Academy in Torresdale (Philadelphia), and served as postulants and novices there. Sr. Theophane professed her final vows in 1936.
For more than 60 years, she served as a teacher and principal in schools in Philadelphia; Long Island, Utica and Brooklyn, NY; Springfield, MA, and in several convents in Connecticut. In her own words, Sr. Theophane "taught the upper grades to love and serve God and the Church and to love one another." Former students noted she was an excellent teacher.
Everyone who knew Sr. Theophane knew how much she cherished her family. She carried on an extensive correspondence, remembering holidays, birthdays and other family events with cards, letters and phone calls. She not only kept in close contact with her sisters, but also their children and their children's children. When she and Sr. Adeline would visit their sister Jayne in Virginia, Sr. Theophane would enjoy playing outside with her nieces and nephews. Maybe they were not the Boston Red Sox, but we did hear she enjoyed playing baseball in her day.
In 2002, Sr. Theophane moved to the Marian Heights Infirmary in Monroe, CT. On the evening of Feb. 12, Sr. Ann Marie Keemon, director of the infirmary, had just finished praying the Rosary with Sr. Theophane and stepped out to get some water for her. In those few moments, Sr. Theophane lay back on her pillow, sighed and slipped quietly into the arms of Jesus.