To share messages of remembrance about a recently deceased sister please visit our Message of Remembrance page.
To make a donation in memory of one of our sisters, click HERE.
Are you looking for a Sister who served in your school, hospital, parish or other ministry?
Please complete our Find A Sister form.
Sr. Caritas Domagalski (1917-2010)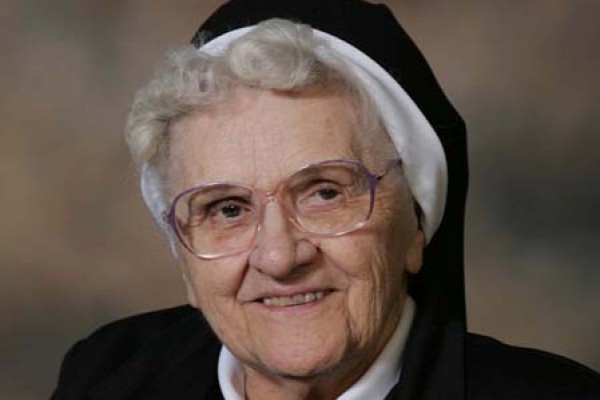 A native of Chicago's South Side who grew up in St. Michael the Archangel Parish, Sr. Caritas Domagalski celebrated her diamond jubilee on 2009, 75 years as a Sister of the Holy Family of Nazareth.
At that time, she traced her vocation back to the second-grade classroom of Sr. Redemptoria, who asked her 60 students to identify the evangelical virtues. Only Louise Domagalski knew the answer: poverty, chastity and obedience. "Sister replied, 'That means you're going to be a Sister.' So I went home and asked my mother why Sister said that, and Mother told me those are the virtues sisters must practice. That remained with me until I entered in 1934."
In addition to St. Michael's, Sr. Caritas attended commercial high school for two years before joining the CSFNs; she graduated from Holy Family Academy in Chicago. She held a bachelor's degree in philosophy from DePaul University, and took numerous courses in music, eventually playing both piano and violin. Her long career took her to many elementary schools in the Archdiocese of Chicago, as well as to hospitals in Texas, where she served as sacristan and did office work. At Ascension/St. Susanna parish in Chicago, she served as local superior and school principal.
Sr. Caritas said the highlight of those ministerial experiences was her assignment as a local convent superior in Rome for six years. She recalled meeting Pope John Paul II for the first time during an event at Castel Gandolfo, the pope's summer residence. As photographers were organizing a large group for a photo with the pope, Sr. Caritas was at the side of the group – but not for long. "John Paul put his hand on my neck and had me stand next to him. Over the years, I had many contacts with the Pope – I even baked him cookies. And now I am praying for his canonization."