To share messages of remembrance about a recently deceased sister please visit our Message of Remembrance page.
To make a donation in memory of one of our sisters, click HERE.
Are you looking for a Sister who served in your school, hospital, parish or other ministry?
Please complete our Find A Sister form.
Sr. Estelle Paciorka (1911-2010)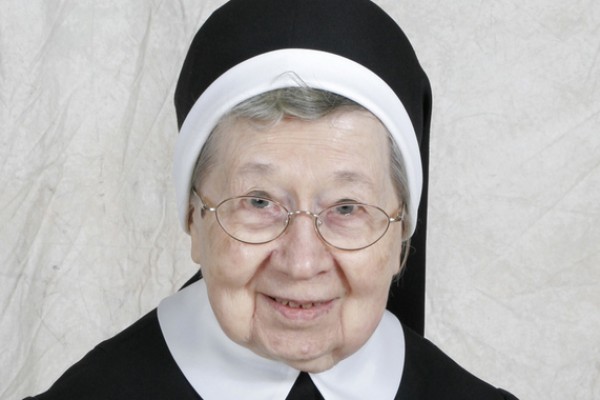 Sr. Estelle (Agnes) Paciorka, 99, died at about 7:05 am on April 14 while her fellow sisters were at daily Mass in the Marian Heights Chapel in Monroe, CT. Eight months shy of her 100th birthday, Sr. Estelle spent 82 years in religious life.
One of the eight children of Francis and Veronica Paciorka of Scranton, PA, Agnes eventually followed an older sister, Cecilia, to the CSFNs. But first, she visited Cecilia in the convent at her family's behest, making a whole-hearted attempt to convince Cecilia (eventually, Sr. Joanita) to change out of her 'strange clothes' and return home immediately. Not long after this incident, which Sr. Estelle occasionally portrayed amid much laughter, young Agnes followed Cecilia to the CSFNs.
The Paciorka family visits to the convents where the sisters were stationed were joyous occasions; other sisters who met the Paciorkas were always made to feel a part of this loving family.
Sr. Estelle attended Nazareth Academy in Torresdale, PA, and earned a bachelor's degree from Manhattan College, NY. For more than 55 years, she taught hundreds of children, mostly in kindergarten and primary grades. She loved the classroom, as well as preparing her students for shows and processions. An excellent seamstress, Sr. Estelle often sewed the processional capes and costumes for the children.
Her first teaching assignment was at Holy Trinity in Utica, NY. She also taught in Brooklyn, Queens and Long Island, NY, as well as in New Haven, Ansonia, Derby and Stratford, CT. Her teaching skills extended beyond the primary grades; she and several sisters established sewing classes for adults in Greenpoint, NY.
Sr. Estelle also taught English to some Vincentian priests in Derby, CT, and some young Polish women who worked at the Provincialate in Monroe, CT.
Sr. Estelle also served as a local superior in Ozone Park, NY, and at the Provincialate in Monroe. In her later years, she became the local coordinator for the Associates of the Holy Family at St. Stanislaus Parish in Brooklyn. After she retired to Monroe in 2001, many Associates would seek her out when they were in Monroe for events.