To share messages of remembrance about a recently deceased sister please visit our Message of Remembrance page.
To make a donation in memory of one of our sisters, click HERE.
Are you looking for a Sister who served in your school, hospital, parish or other ministry?
Please complete our Find A Sister form.
Sr. Rosella Wyborska (1933-2010)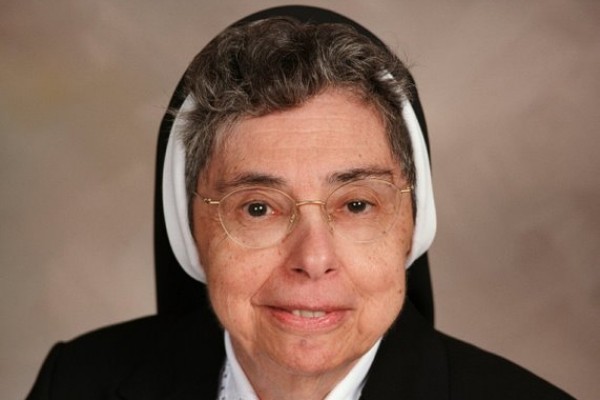 Born on the feast of Our Lady of Lourdes, Jean Wyborska was the second child of John and Mary Wyborski who lived in St. Adalbert Parish, Philadelphia. From an early age, she was prayerful and devoted to Mary. Jean also was considered funny and loving; she and her older sister Eleanor were inseparable as children. She remained devoted to her sister and brother-in-law Tom throughout her life; in recent years, she suffered a great loss when Eleanor became ill and died.
Jean sought entrance into the Congregation while still a student at Nazareth Academy in Philadelphia, becoming a postulant on Dec. 8, 1950, with several other classmates. Sr. Rosella Wyborska professed final vows in 1959 at the then CSFN Provincialate in Philadelphia.
Her education ministry began in a 3rd-grade classroom in Brooklyn, NY, where she prepared the children for their First Communion. Known for her intelligence and attention to detail, she was named assistant principal and 8th-grade teacher in Jamaica, NY.
Her teaching and administrative career also took her to Ansonia, CT; Southampton, NY; Worcester, MA, and Riverhead, NY, on Long Island. She considered her experience at St. Isidore School on Long Island (1981-1990) as her most fruitful and enriching educational experience; the school received the federal Award for Excellence in 1989.
In 1990, Sr. Rosella returned to Philadelphia after 47 years, resuming teaching and administration at St. Katherine of Siena School, Nazareth Academy Grade School and St. Adalbert School, her home parish.
Experiencing many health issues, she left education and became archivist of the Immaculate Conception Province (Philadelphia) and helped shepherd the transfer of the Philadelphia archives to the Chicago Provincialate when the CSFNs' U.S. provinces merged in 2007.
Eventually, Sr. Rosella retired to Mt. Nazareth and hospice care. Her favorite prayer became the words of a favorite psalm: "My heart has heard you say, 'Come and talk with me,' and my heart responds, 'Lord, I am coming.'"