To share messages of remembrance about a recently deceased sister please visit our Message of Remembrance page.
To make a donation in memory of one of our sisters, click HERE.
Are you looking for a Sister who served in your school, hospital, parish or other ministry?
Please complete our Find A Sister form.
Sr. Bernadette Donahue (1934-2010)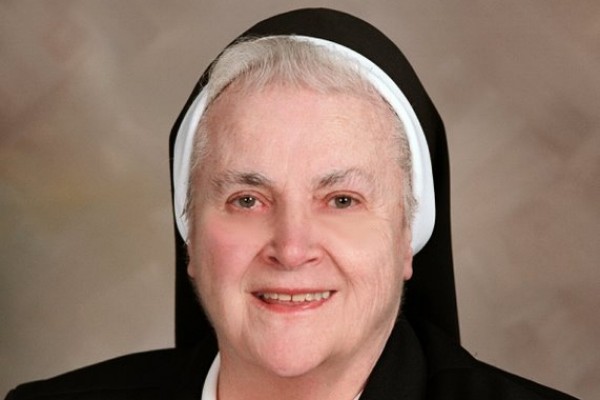 Sr. Bernadette Donahue, 75, died Wednesday, Aug. 4, in Philadelphia, PA. She was in the 58th year of her religious life. The former Holy Family University trustee was associate treasurer and assistant to the director of the university's Newtown facility and chair of the Nazareth Academy High School Board of Trustees.
A Philadelphia native, Sr. Bernadette graduated from St. Matthew Parish School and attended Nazareth Academy High School. After graduation, she joined the CSFNs, whose charism had captivated her during high school. Initially, she was known as Sr. James, taking the name in honor of her father's baptismal patron, St. James. Like many sisters, after Vatican II, she returned to her own baptismal name.
Sr. Bernadette earned a BA in education from then Holy Family College in 1966 and an MA in history from the University of Scranton in 1972. An outstanding educator and administrator, Sr. Bernadette taught at St. Stanislaus Kotska School, Brooklyn, for six years. In Pennsylvania, she served at Visitation BVM, Norristown; Archbishop Ryan and St. Hubert high schools, Philadelphia; 10 years at her alma mater, Nazareth Academy High School, and 11 years at Our Lady of Calvary School, Philadelphia, including eight years as principal and five years as local superior.
In 1989, she was called to serve as treasurer/councilor for the former Immaculate Conception Province, Philadelphia. Over the years, she served on many boards, including those of Nazareth Hospital, Holy Family University, Nazareth Academy, St. Mary's Villa and Holy Redeemer, as well as the Philadelphia Archdiocesan Sisters' Retirement board.
At Holy Family University, Sr. Bernadette was a familiar face to students in the business office at Newtown, where she had worked since its opening in 1997. "She was a very good friend and mentor to all of us at Newtown," said Karen Galardi, MBA, executive director of the Newtown site.
Sr. Bernadette served on a Middle States re-accreditation subcommittee prior to her illness. She was a member of Holy Family's Board of Trustees from 1989 to 1995.
Family and friends were important to Sr. Bernadette; every Christmas season, she and her fellow sisters at Delaney Hall looked forward to sharing a friend's special Kahlua cake. An ardent sports fan, she particularly enjoyed watching the Phillies and Eagles.
Sr. Bernadette was a very prayerful person with a great devotion to the Blessed Virgin Mary. A needle-pointed maxim of Mother Foundress which Sr. Bernadette kept in her room summarized her views on prayer: "We cannot expect any results if we do not turn to prayer."