To share messages of remembrance about a recently deceased sister please visit our Message of Remembrance page.
To make a donation in memory of one of our sisters, click HERE.
Are you looking for a Sister who served in your school, hospital, parish or other ministry?
Please complete our Find A Sister form.
Sr. Ernest Budzinski (1916-2011)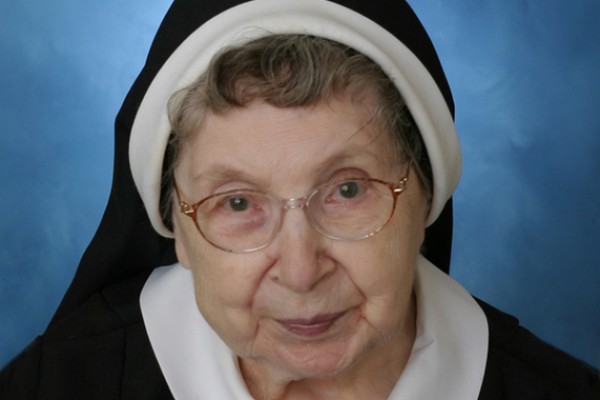 A native of Erie, PA, Sr. Ernest Budzinski was a registered nurse-anesthetist who ministered in Altoona and McKees Rocks, PA, as well as in Pittsburgh and Detroit. One of five children of Valentine and Theophila Budzinski, she was baptized at St. Stanislaus Church in Erie, PA. She and her siblings attended the parish school and were taught by the Sisters of the Holy Family of Nazareth (CSFN). Her high school years were spent at the CSFNs -- Mt. Nazareth Academy in Pittsburgh.
She joined the congregation in January of her senior year. "I attribute my vocation to God and my family, where faith and religion were a priority," Sr. Ernest once wrote. "The sisters at St. Stanislaus in Erie inspired me to follow their footsteps into Nazareth."
Before she embarked on her nursing studies, Sr. Ernest taught third grade at Transfiguration School in Detroit. From there, she studied nursing at Mercy Hospital in Altoona, PA, graduating in 1945. Soon after, she began studying anesthesiology at St. Mary of Nazareth Hospital in Chicago. After graduation, she served as a nurse-anesthetist at Ohio Valley General Hospital in McKees Rocks, near Pittsburgh. Four years later, she returned to Mercy Hospital in Altoona, serving as an anesthetist there for 29 years. One physician commented on Sr. Ernest: "Sister is the best in every way. For me, she is Number 1!" She held membership in the American Association of Nurse Anesthetists and the Pennsylvania State Association of Nurse Anesthetists.
In 1980, Sr. Ernest returned to Pittsburgh, serving as supervisor of nursing at Holy Family Manor. Two years later, she became co-administrator for John Paul II Plaza, a high-rise residence for the elderly of Immaculate Heart of Mary Parish in Pittsburgh. In the ensuing years, she returned to Holy Family as a nurse; was a nursery caregiver at Holy Family Learning Center in Lakewood, OH, and teamed up with Sr. Chester Kunka for five years as co-manager of Just-Inn-Transition, a home for the elderly with medical issues in Pittsburgh.
Her great joy in 1989 was attending the beatification of the CSFNs' Mother Foundress, Bl. Mary of Jesus the Good Shepherd (Frances Siedliska) in Rome. She moved to Holy Family Manor in 2000. On Jan. 1 this year, she became ill and died in the early morning hours of Jan. 4. Her cousin, Fr. Walter Ostrowski, concelebrated her funeral Mass with Fr. David Moczulksi, OFM, at the Manor chapel. Sr. Ernest would have celebrated her 95th birthday in February.